Romantic boulevards and parks, ancient architecture and the richest museums have made Madrid a celebrated city. Every square, block or street in Madrid has its own unique local colour. Traditions and customs are honored and practiced here.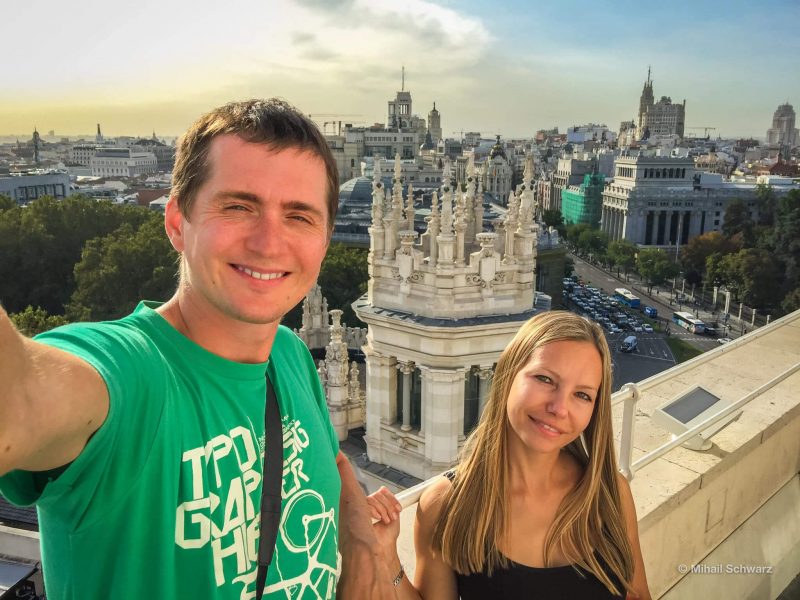 What To Do In Madrid
Start your acquaintance with Madrid from scratch. Spain's kilometer zero is a bronze plaque on the Puerta del Sol.
Take the elevator up to the top floor of the El Corto Inglés department store (Plaza Callao 2) and look out over the city from its terrace.
Feel the rhythm of Gran Vía, Madrid's main street, which was depicted in Alejandro Amenábar's film "Open Your Eyes". By the way, there was a time when Gran Vía was called Avenida de Rusia and Avenida de la Union Sovietica. Stop by the Museo Chicote cocktail bar, created by rare liquor collector Pedro Chicote.
Visit the "golden triangle of art." These are the Prado Museum, the Thyssen-Bornemisza Museum, and the Queen Sofia Museum. And if you add the Royal Palace of Madrid, you get the "golden circle of the arts."
Stop by one of the jamón museums and grab a bite of the best serrano or iberico jamón. At Bar Postas or Café El Brilliante treat yourself to squid sandwiches. At Malacatín, try the thick pea soup with smoked meat (cocido madrileño).
Have breakfast at San Ginés Chocolateria, which has been famous for the best churros for more than 120 years.
Taste real hot chocolate, not from powder, at El Riojano.
Dine at Sobrino de Botín, the oldest restaurant in the world, which is listed in the Guinness Book of World Records. Since 1725, the suckling pig (cochinillo asado) has been roasted here in an ancient wood-fired oven.
Sit in the tropical waiting room of the Atocha train station and admire the turtles.
Enjoy the sunset near the temple of Debod.
Relax in Madrid's city parks.
Walk through the sites of soccer glory. The Cibeles Fountain is the triumphant bathing spot for Real Madrid fans. And near the Neptune Fountain they celebrate the victories of the Atlético de Madrid club.
Go to some of the amazing viewpoints on my list.
The Main Attractions Of Madrid
Main Square / Plaza Mayor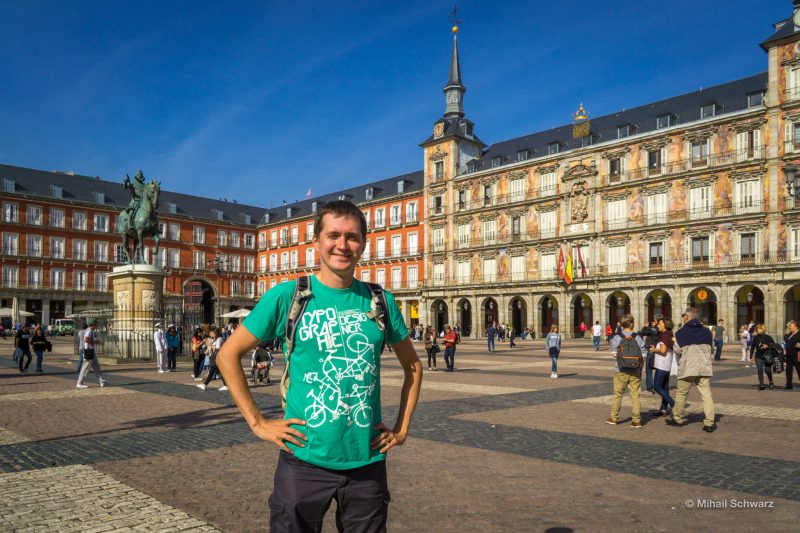 The main square (Plaza Mayor) of Madrid is rectangular in shape. It was created in the Baroque style of Madrid on the site of the old Plaza Arrabal, which means "suburb" or "suburb". During the Middle Ages the square was behind the city walls and served as a market place and during the Inquisition it was the place of execution and Autodafe. The inauguration of the Plaza Mayor took place on May 15, 1620, when the peasant Isidore was numbered among the saints.
Today, the Main Square is bustling with life until late at night, with bars and restaurants open, street musicians playing, artists offering their paintings, and merchants luring in souvenirs. Attractions in the square include the Casa de la Panadería (bakery), the Arch of Cuchilleros and the bronze equestrian statue of Philip III.
Square Gate of the Sun / Puerta Del Sol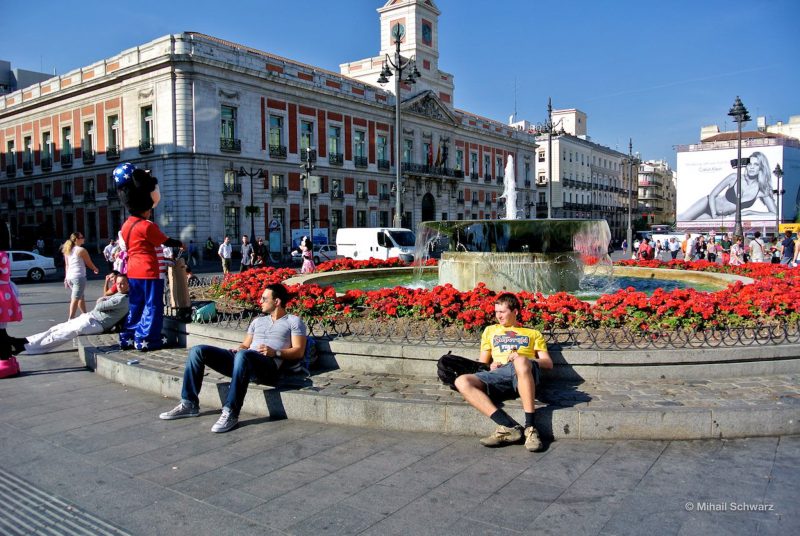 The Square Gate of the Su (Puerta del Sol) – as one of the gates in the city wall was called in the fifteenth century. In 1521 they were demolished, the entrance was widened and the space around it was enlarged. This is how the central square of Madrid appeared. Puerta del Sol is a beautiful oval square surrounded by 18th century buildings, a crossroads of 8 streets and a transportation hub of the city. There is a bronze plate on the sidewalk – it is the "zero point", the beginning of the counting of road distances in Spain. On the square you'll find the symbol of the capital – the sculpture "The Bear and the Strawberry Tree", as well as the building of the former Post House with a clock, the equestrian statue of King Charles III and the Sol metro station. Puerta del Sol is a favorite place of Madrid residents and tourists. It is always crowded with architectural monuments, souvenir shops, stores, cafes and restaurants for all budgets.
Royal Palace / Palacio Real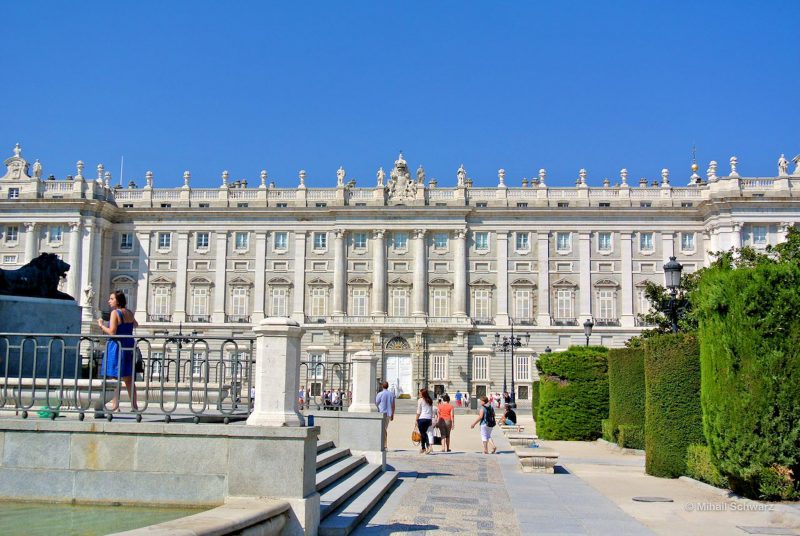 The Royal Palace of Madrid (Palacio Real de Madrid) is one of the most beautiful royal residences in Europe. The appearance of the palace dates back to the late Baroque period.
The grandiose complex is built in the form of a rectangle with a spacious courtyard bounded by an arched gallery. The building has two basement floors and three main floors. On the southern facade of the complex is the main front entrance. Gardens extend on the west side.
Prado Museum / Museo del Prado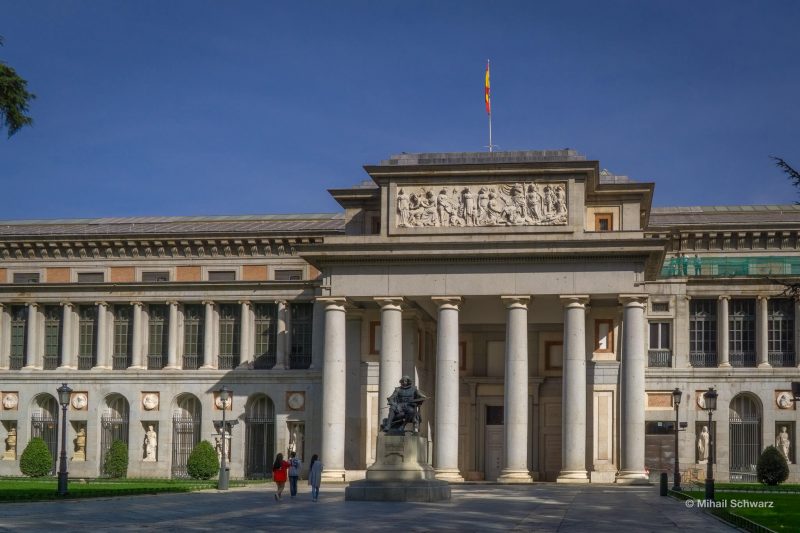 The Prado Museum (Museo del Prado) is one of the most visited art museums in the world. Its building is an architectural jewel of Madrid, a magnificent example of neoclassicism. It attracts attention with its sophisticated elegance, the graceful harmony of white stone columns and pink brick walls. The Prado has a rich collection of Spanish paintings, as well as Italian, French, German, Flemish and Dutch. It holds the most comprehensive collections of works by Bosch, El Greco, Goya, Velázquez, Murillo and Zurbarán.
Queen Sofía National Museum Art Centre / Museo Nacional Centro de Arte Reina Sofía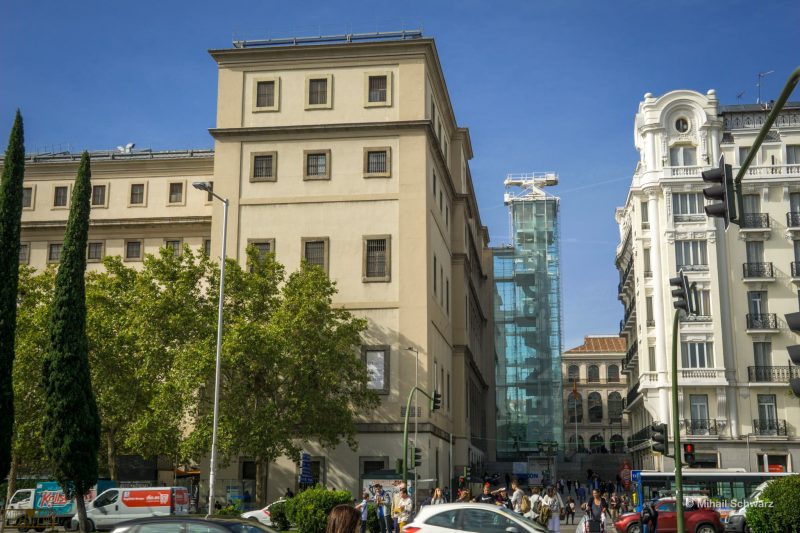 The Museo Nacional Centro de Arte Reina Sofía (MNCARS) was opened on September 10, 1992 in a former hospital building. Three glass elevators were added to the exterior of the ancient building and in 2005 3 bright red enclosures were added under a large red canopy.
The main objective of the Queen Sofia Art Center is to show and tell about the avant-garde art of the Spanish masters of the twentieth century. It is an art museum with a permanent collection, with rooms for temporary exhibitions and with a research department. There is a pinacoteca and a library with 40,000 volumes, classrooms for students, a luxurious concert hall and the NuBel restaurant.
Thyssen-Bornemisza Museum / Museo Thyssen-Bornemisza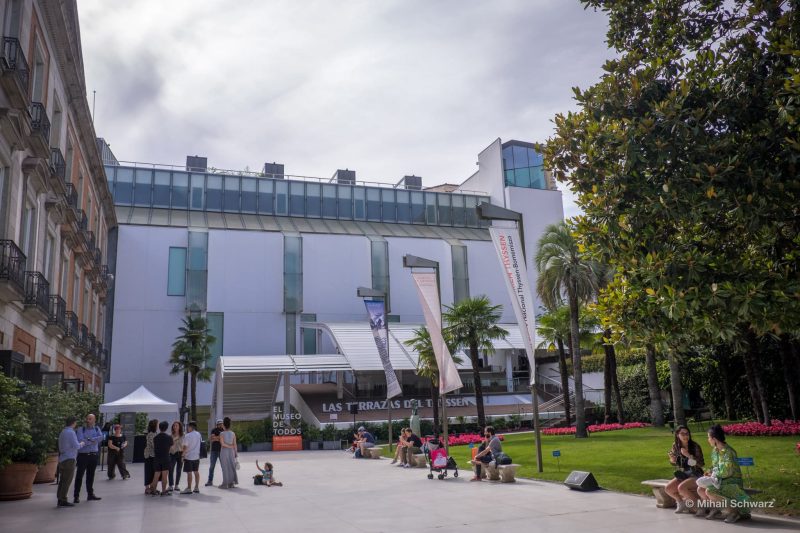 The Thyssen-Bornemisza National Museum (Museo Nacional Thyssen-Bornemisza) owned the largest private collection in the world until 1993. Today it is a state art gallery. The exposition consists of four parts: the first consists of paintings of old masters of the XIII-XIV centuries; the second – of the Renaissance, baroque and rococo periods; the third – Impressionism and postimpressionism, the fourth – the works of American artists of the late XIX – early XX century. The museum hosts many temporary exhibitions.
Convent of Las Descalzas Reales / Monasterio de las Descalzas Reales)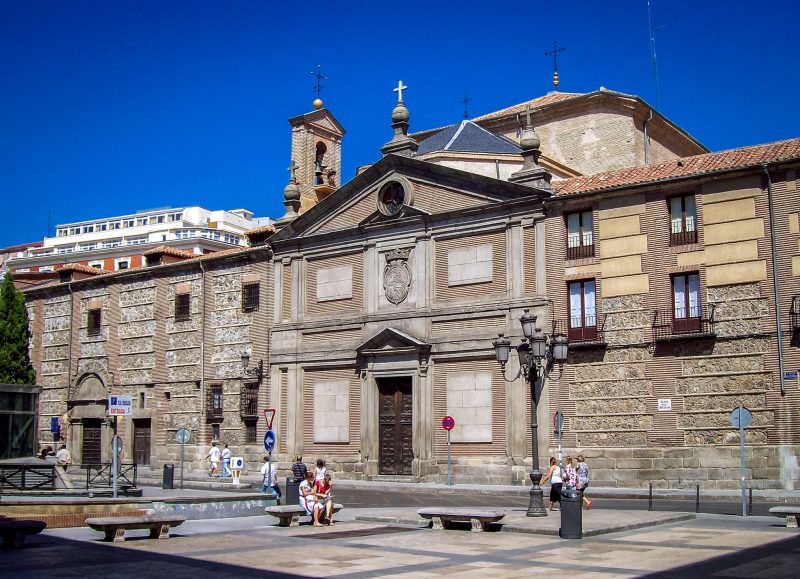 Convent of Las Descalzas Reales (Monasterio de las Descalzas Reales) was a "Monastery of the Royal Discalced" that became a refuge for girls from noble families. It was founded in 1559 by Juana of Austria on the site of the palace of her father Charles V. The building is in the style of classicism. Part of the convent is now converted into a museum, housing a rich collection of art, coins, silverware, crystal, marble sculptures, and Brussels tapestries.
Egyptian Temple Of Debod / Templo de Debod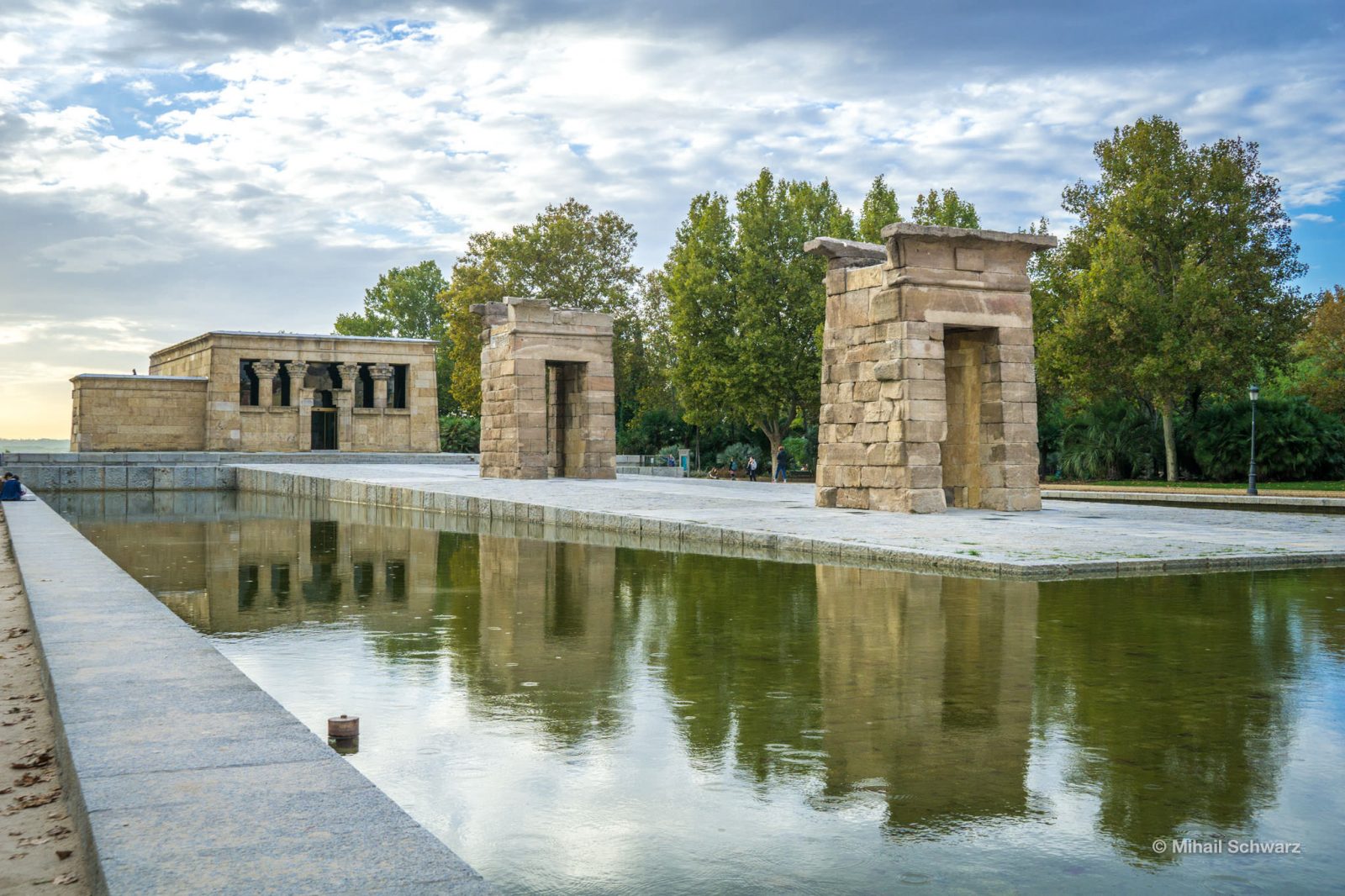 The Temple of Debod (Templo de Debod) is an ancient Egyptian temple, which was built in the fourth century BC and dedicated to the goddess Isis. The Egyptian authorities gave it to Spain in gratitude for saving the temples of Abu Simbel from flooding during the construction of the Aswan Dam. Debod was carefully disassembled and delivered to Spain by ship, and then reassembled in Madrid's West Park. It was opened to the public in 1972.
Retiro Park / El Retiro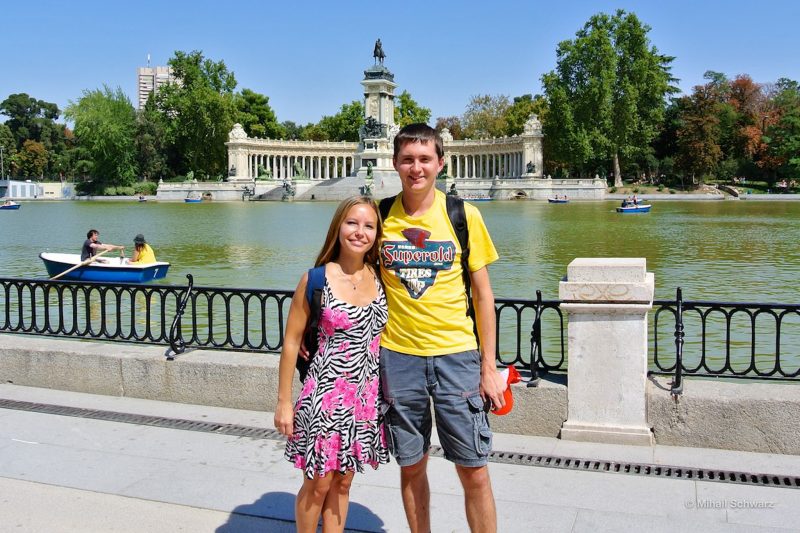 The Buen Retiro Park (Parque del Retiro de Madrid) is a city park, a favorite resting place of the people of Madrid, one of the symbols of the capital and an object of Spanish cultural heritage. This is a huge green area. In the XVII century it was adjacent to the Palace of Felipe IV and served as a place for court entertainment. Later it fell into disrepair. In XIX century under Ferdinand VII the park was restored. It is now adorned by a small lake with a monument to King Alfonso XII, two palaces, sculptures and fountains.
Park Warner Madrid / Parque Warner Madrid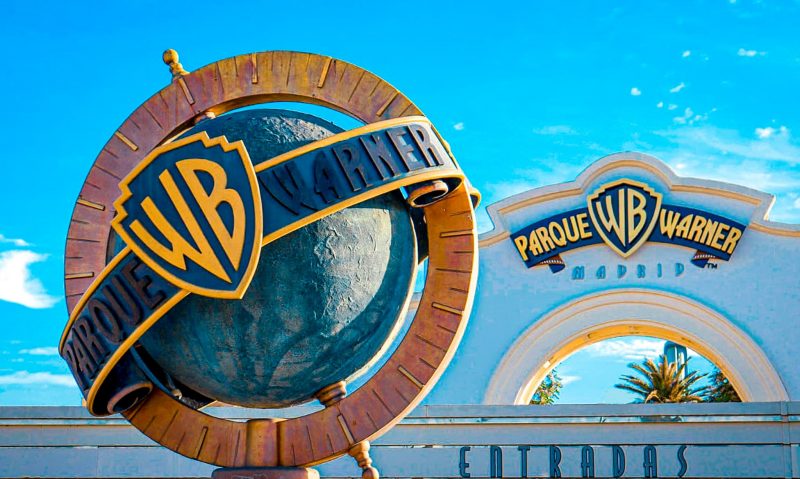 The park Warner Madrid (Parque Warner Madrid) is a theme amusement park located 23 km from Madrid. It was opened in 2002 and immediately became popular. Meet your favorite cartoon characters, rides, shows and fun in the water park. The park is divided into five themed areas: DC Super Heroes World, Cartoon Village, Old West Territory, Hollywood Boulevard and Warner Bros.
El Rastro de Madrid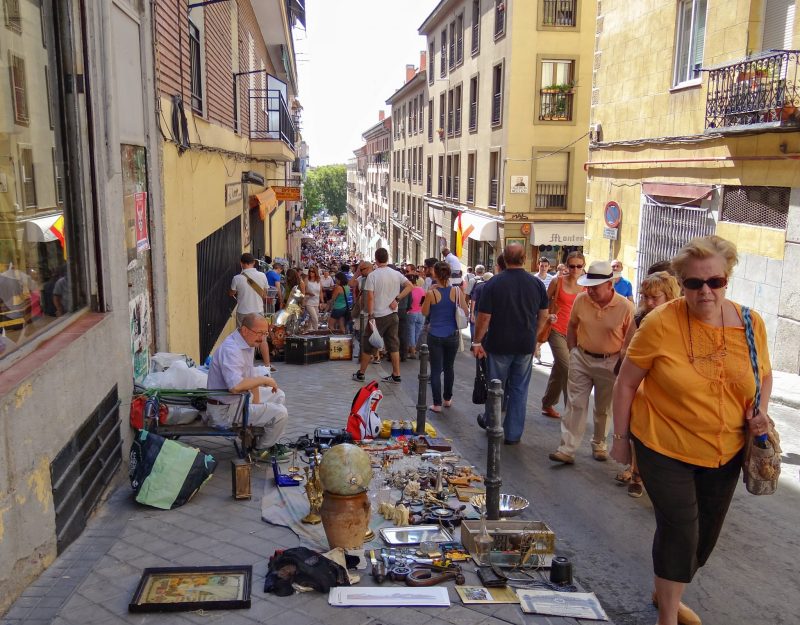 El Rastro is Spain's most popular open-air flea market and one of the city's free attractions. If you want to get acquainted with the inhabitants of the city, you have to go here on your day off to get acquainted with their spirit and lifestyle. Here you'll find everything you need, or rather don't need: antiques, second-hand things, military paraphernalia, birdcages, etc.
What sights are free to visit in Madrid?
You can experience art in the Spanish capital for free, but on certain days and hours.
Free Days At Museums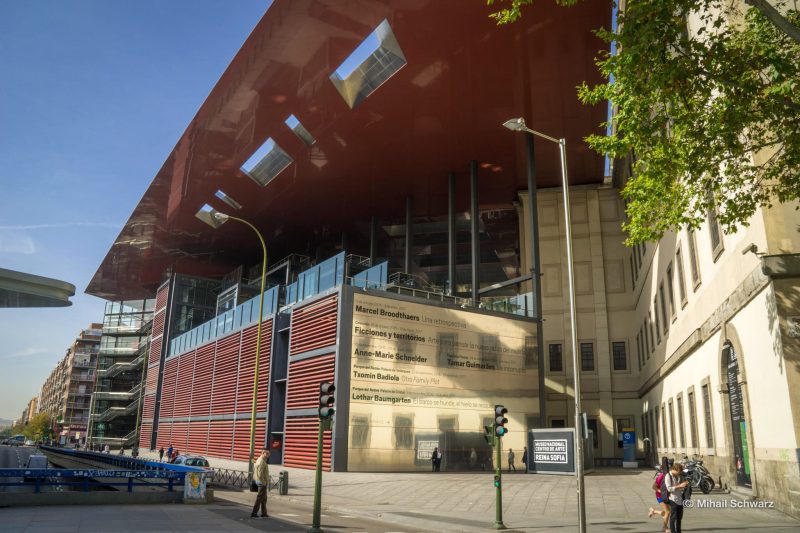 Prado: Monday through Saturday from 6 p.m. to 8 p.m., Sundays and holidays from 5 p.m. to 7 p.m.
Queen Sofia Museum : Monday through Saturday (except Tuesdays) from 7:00 to 9:00 p.m., and on Sundays and holidays (April 18, May 18, October 12 and December 6) from 1:30 to 7:00 p.m.
There are branches of the museum in Retiro Park, the Palace of Velazquez and the Palace of Glass. You can go there for free, too.
Thyssen-Bornemisza Museum : Mondays from 12 p.m. to 4 p.m.; October 7 and 8.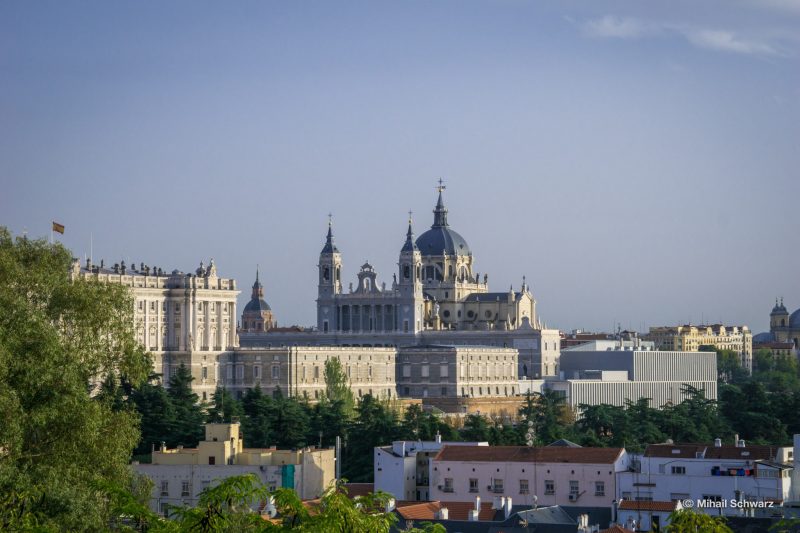 Royal Palace : Monday through Thursday in October-March from 4:00 to 6:00 pm; April through September from 6:00 to 8:00 pm.
Changing of the guard takes place at the Prince's Gate every Wednesday and Saturday from 11:00 a.m. to 2:00 p.m.
A ceremonial changing of the guard takes place every first Wednesday of the month at 12:00 noon (except January, August and September, days of official events and days with inclement weather).
The Royal Palace of El Pardo (Palacio Real de El Pardo): Wednesday and Thursday in October-March from 3 to 6 p.m.; in April-September from 5 to 8 p.m., and also on May 18 and October 12.
The Real Academia de Bellas Artes de San Fernando (Real Academia de Bellas Artes de San Fernando): Wednesdays, May 18, October 12, December 6. Art evenings, which take place every last Saturday of the month from 3:00 to 8:000 p.m., are also free.
Museum of Costume (Museo del Traje): Saturdays from 2:30 to 7 p.m.; Sundays and holidays (April 18, May 18, October 12, December 6) from 10 a.m. to 3 p.m. Temporary exhibitions are free.
Museum of America (Museo de América): Sundays, April 18, May 18, October 12 and December 6 from 10 a.m. to 3 p.m.
Lázaro Galdiano Museum (Museo Lázaro Galdiano): Monday through Saturday, 3:30 to 4:30 p.m.; Sundays, 2 to 3 p.m.
Museum of Romanticism (Museo del Romanticismo): Saturdays after 2 p.m.; Sundays and holidays (April 18, May 18, October 12, December 6) from 10 a.m. to 3 p.m.
National Museum of Decorative Arts (Museo Nacional de Artes Decorativas): Thursday afternoons; Saturday from 2 to 3 p.m.; Sunday, April 18, May 18, October 12 and December 6 from 10 a.m. to 3 p.m. Admission is free for temporary exhibitions.
Cerralbo Museum (Museo Cerralbo): Saturdays from 2 p.m.; Thursdays from 5 to 8 p.m.; Sundays and holidays (April 18, May 18, October 12 and December 6) from 10 a.m. to 3 p.m.
Joaquin Sorolla House Museum (Museo Sorolla): Saturday from 2:30 pm; Sunday, April 18, May 18, October 12 and December 6 from 10:00 am to 3:00 pm.
Museum of the Royal Mint (Museo Casa de la Moneda): Tuesday through Friday, 10:00 a.m. to 8:00 p.m.; Saturday, Sunday and holidays, 10:00 a.m. to 2:15 p.m.
The Public Art Museum (Museo Arte Público) is located under the Enrique de Mata Horostizaga Bridge (Paseo de la Castellana, 40). It is free. There are 17 sculptures on display in the open air.
Museum of Modern Art (Museo de Arte Contemporáneo) in the Conde Duque Barracks building: Tuesday through Saturday from 10:00 to 14:00 and from 17:30 to 21:00; Sunday and holidays from 10:30 to 14:00.
San Isidro Museum. At the origins of Madrid (Museo de San Isidro): Tuesday through Sunday and holidays from 10:00 to 20:00.
Madrid Historical Museum (Museo de Historia de Madrid): Tuesdays through Sundays and holidays from 10:00 to 20:00.
Maritime Museum (Museo Naval): Tuesday through Sunday from 10:00 to 19:00 (in December until 20:00, in August until 15:00).
ABC Museum of Drawing and Illustration (Museo ABC de dibujo e ilustración): Tuesday through Saturday from 12:00 to 20:00, on Sunday from 10:00 to 14:00.
Casa-Museo de Lope de Vega (Casa-Museo de Lope de Vega): Tuesday through Sunday, 10 a.m. to 6 p.m.
Museum of the National Library of Spain (Museo de la Biblioteca Nacional de España): Monday through Saturday from 10:00 to 20:00; on Sundays and holidays from 10:00 to 14:00.l
Old vestibule of Pacífico station (Antiguo vestíbulo de la Estación de Pacífico): one day a month, usually the second or third Saturday of the month, depending on requests and availability.
Chamberí station zero platform in Chamberí Square (Andén Cero Estación de Chamberí): Thursday: 10:00 to 14:00; Friday: 10:00 to 19:00; Saturday: 10:00 to 19:00; Sunday: 10:00 to 15:00.
The El Retiro Park Puppet Theater (Teatro de Títeres del Parque de El Retiro) gives free performances almost every Saturday and Sunday.
Free Admission To Monasteries And Cathedrals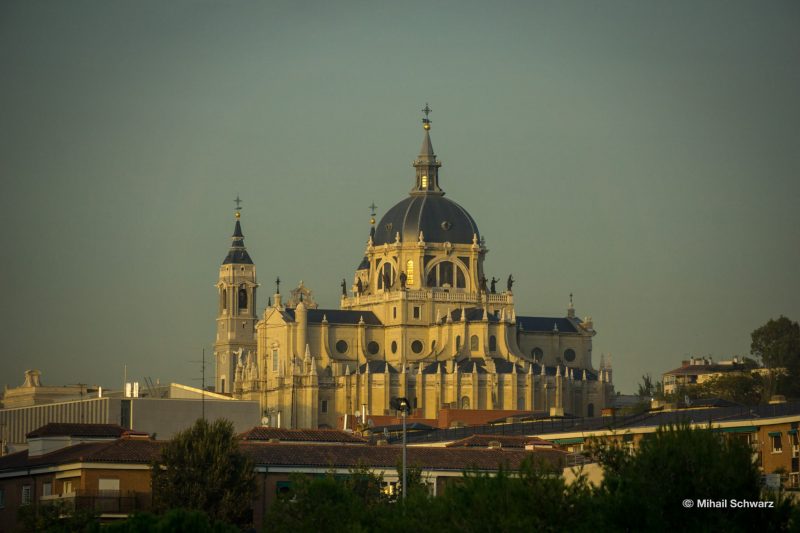 The Royal Chapel of St. Anthony of La Florida (Ermita de San Antonio de la Florida): Tuesday through Sunday from 9:30 to 20:00. In summer, Tuesday through Friday from 9:30 a.m. to 2 p.m., and Saturday, Sunday and holidays from 9:30 a.m. to 7 p.m.
Almudena Cathedral (Catedral de la Almudena): Monday through Sunday 09:00 – 20:30; in July and August 10:00 – 21:00 (except during liturgical celebrations).
Convent of Las Descalzas Reales (Monasterio de las Descalzas Reales): May 18 and October 12.
Royal Monastery of La Encarnación (Real Monasterio de la Encarnación): May 18 and October 12.
The Temple of Debod (Templo de Debod) and its gardens: Tuesday through Sunday from 10:00 to 20:00, in summer until 19:00.
Free Gardens And Parks In Madrid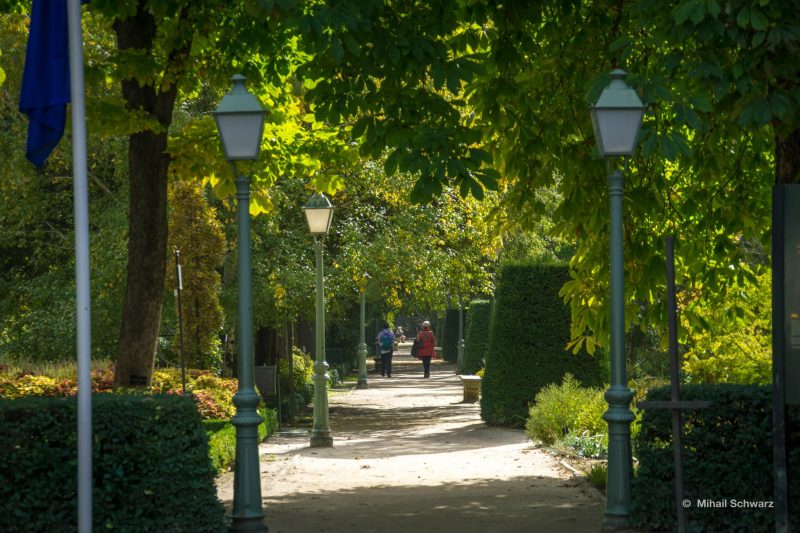 Relax in city parks and gardens without spending a dime.
Buen Retiro Park (Parque del Retiro de Madrid)
Sabatini Gardens (Jardines de Sabatini)
Campo del Moro Gardens (Campo del Moro)
El Capricho Park (Parque de El Capricho)
Country House Park (Casa de Campo)
Plaza de Oriente Gardens (Jardines de la Plaza de Oriente)
Plaza de España Gardens (Jardines Plaza de España)
Las Vistillas Gardens (Jardín de las Vistillas)
What discount cards are available in Madrid?
Madrid City Pass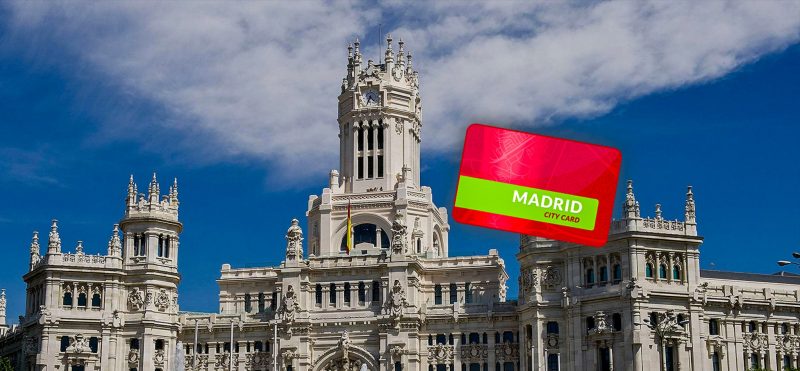 Buying the Madrid City Pass card will solve many of your problems. And what's important, everything is online! Tickets do not need to be printed out or picked up somewhere. The card is personal and not transferable. All information is on citypasses.eu.
What does the Madrid City Pass offer?
Express tickets to the Prado Museum and the Royal Palace;
Audio tours of Madrid and the Prado in English, French, German, Italian, Portuguese and Spanish;
One-day Hop On – Hop Off tour bus ticket;
20% discount on over 30 attractions, museums, guided tours and shows.
Extras! Public transport card for 2 days and private transfer from the airport to your accommodation.
How To Buy Tickets To Museums In Advance
The museums of Madrid have a lot of treasures of world art, so the number of those who want to join the beautiful is off the charts. To buy a ticket at the ticket office you have to stand in line. If you do not want to waste time and effort, then buy tickets online at the sites getyourguide.com, tiqets.com.
In Which Area Of Madrid Is Better To Choose A Hotel
Madrid is a large city, administratively it is divided into 21 districts and 131 subdistricts. Therefore, it is important to choose the right place to live depending on your goals and preferences.
Historic Center – Centro
Centro (Centro) is a neighborhood in the center of Madrid. It is suitable for those who come with an educational purpose. This is the oldest district where you can find famous attractions, museums and galleries, interesting places. The hotels here are for everyone's wallet. The main disadvantages: the tourists-bars-restaurants, and therefore the noise. A lot of narrow streets with historic buildings – not much sun, you look in the window of the neighbor. Few trees. Centro consists of several subdistricts.
Hard Rock Hotel Madrid ****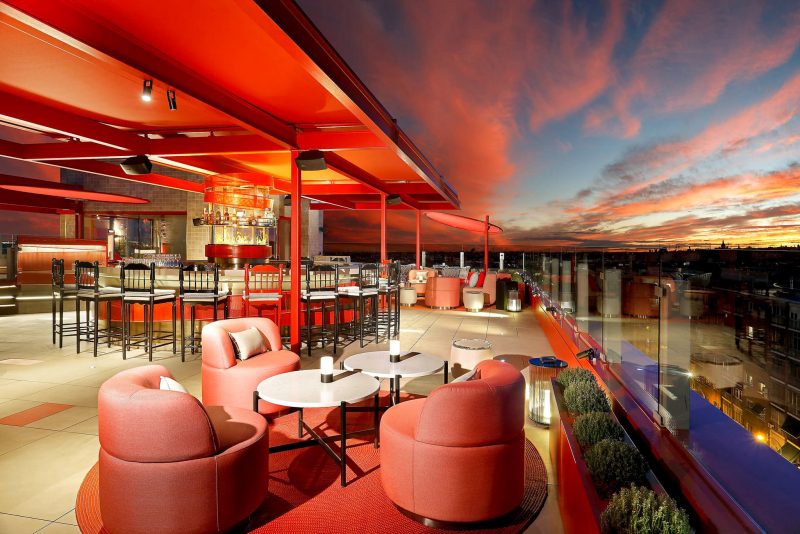 A modern hotel with a garden in the city center near museums and the train station (booking.com).
Hostal Abadia Madrid ***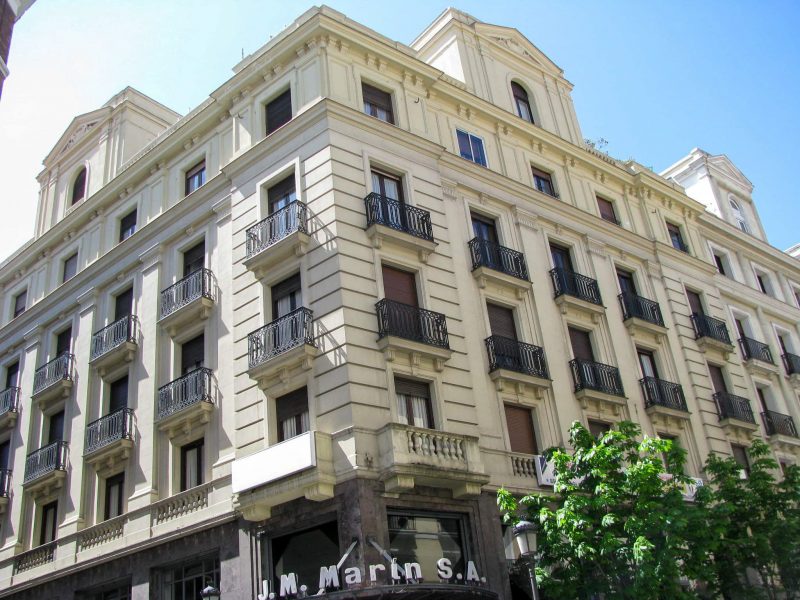 Great location. All attractions within walking distance (booking.com).
Hotel Mediodia **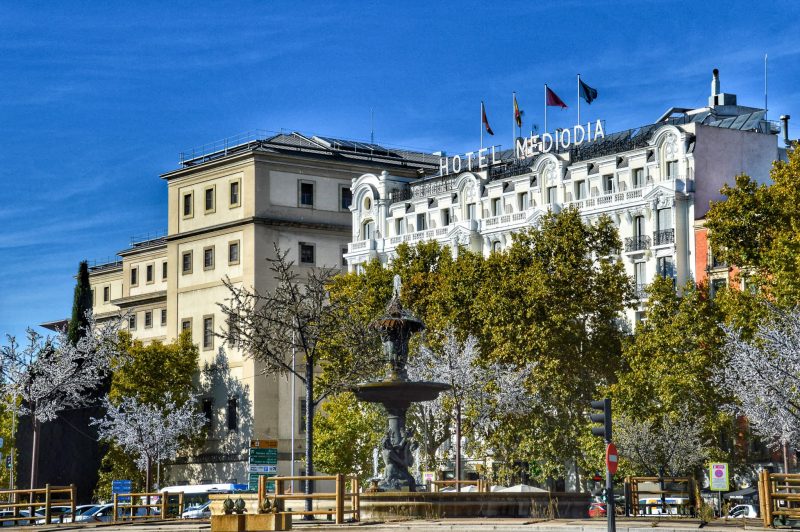 The hotel is located in the famous Golden Triangle of Art (booking.com).
The Sol neighborhood is located near the Sol metro station. Several lively pedestrian streets converge on the Puerta del Sol, where many tourist routes start, so it is crowded at all hours of the day and there is the sound of squeakers everywhere.
Hotel Mirador Puerta del Sol **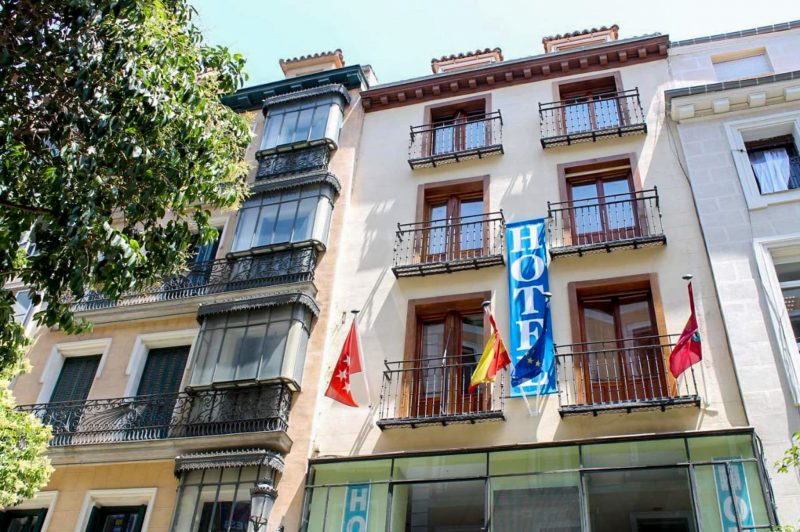 The hotel is located next to the Sol metro station (booking.com).
Gran Vía is an area along one of the main streets of the capital, a center of shopping and cultural entertainment.
Dear Hotel Madrid ****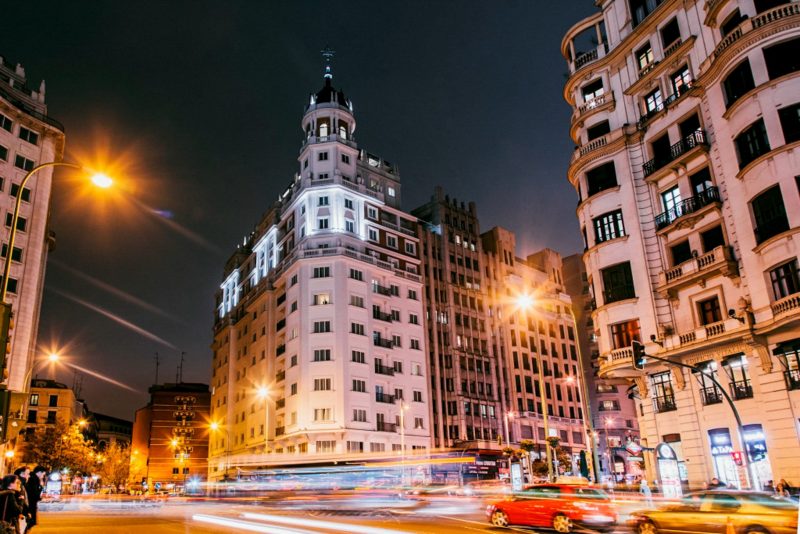 Romantic hotel with rooftop pool and bar (booking.com).
Petit Palace Cliper-Gran Vía ***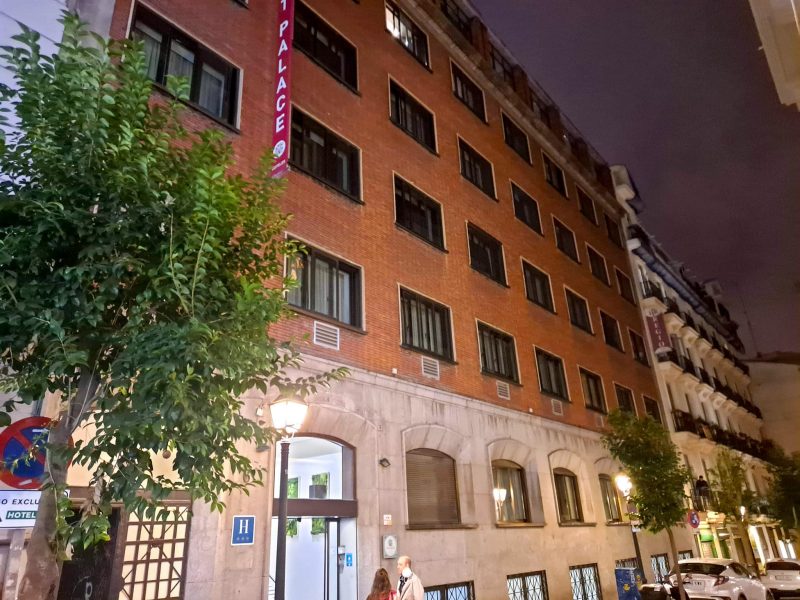 Hotel on Gran Via next to the subway station (booking.com).
Malasaña is a neighborhood near the metro station Malasaña/Tribunal with many cafes, restaurants and original boutiques. The neighborhood is popular with students and will appeal to artistic types.
Las Letras (translated as "letters") was the neighborhood where many writers lived in the seventeenth century. Even today, the streets of Las Letras traditionally host literary festivals, fairs, and street exhibitions. Of attractions: the Spanish Theater and the house of Lope de Vega.
Lavapiés is the most international part of the central district. The local restaurants serve a variety of cuisines.
Chueca is a trendy and fun part of Madrid's central district. Here are the Palacio de Longoria, the House of the Seven Trumpets, the museums of Romanticism and history, the monastery, there are many shops of all kinds. It is an active nightlife area, where bars, clubs, all sorts of hot spots, gay and LGBT clubs open after dark.
Other Areas La Latina is the liveliest corner of Madrid with a huge number of restaurants and tapas bars.
Posada del Dragón Boutique Hotel ****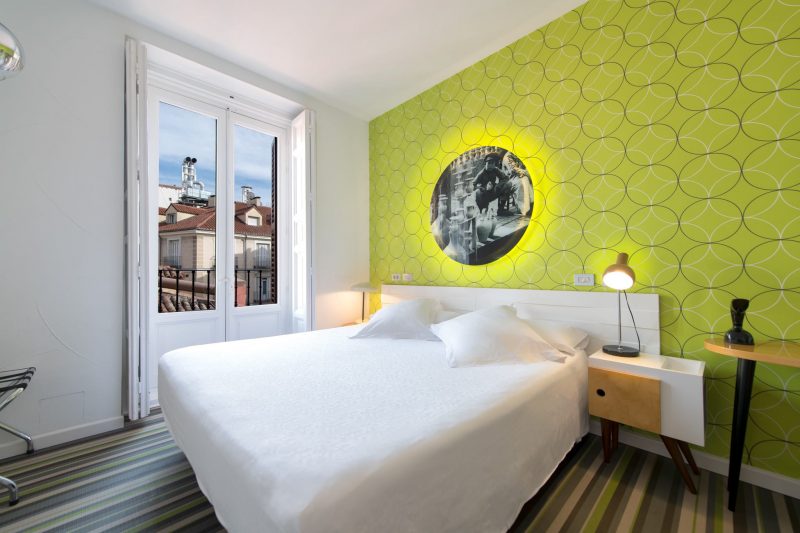 Stylish hotel in the center of Madrid (booking.com).
Hotel Eco Vía Lusitana ***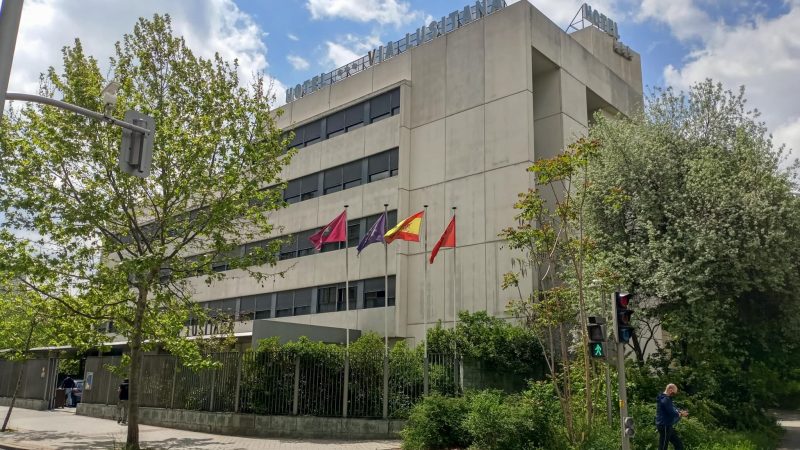 Good value for money (booking.com).
Hotel Porcel Ganivet ***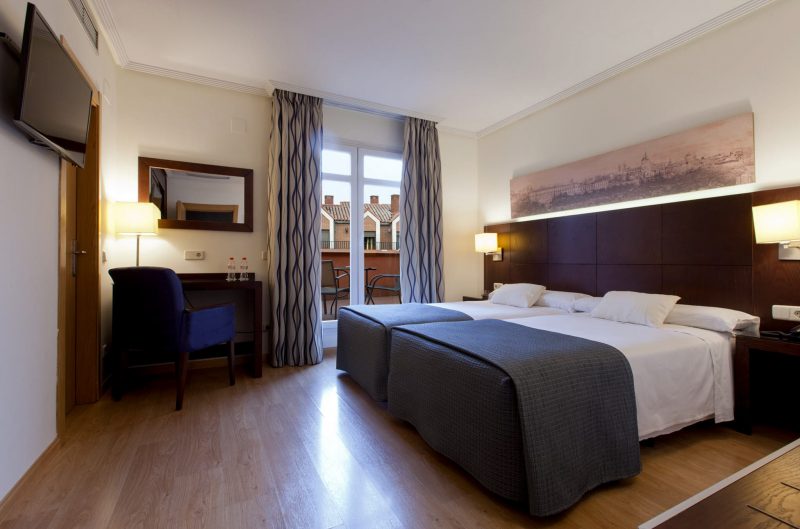 Convenient location. There is a hot tub on the terrace of the hotel for the convenience of guests (booking.com).
Salamanca is Madrid's upscale, respectable and expensive neighborhood. On the plus side, there's a concentration of luxury boutiques on Serrano Street and along the southern border of Retiro Park. There's the Archeological Museum and the Barclaycard Palace of Sports.
Castellana is a sub-district of Salamanca, which is considered the business center of the city. It has the longest and widest street of Madrid, the Paseo de la Castellana. It is home to the Picasso skyscrapers towers and the Gateway of Europe, natural history and art museums, the Palace of Congresses and Exhibitions, plus small galleries and art objects.
Fuencarral-El Pardo is the largest district of the capital, but it is not densely populated. Its main attraction is the 16th century palace El Pardo.
Hortaleza is the neighborhood where the largest number of young people live.
Barajas is the area of Madrid-Barajas Airport. It is home to the exhibition center (IFEMA) and the Juan Carlos Park.
Arganzuela is the greenest and most modern district of Madrid. Its attractions: the Parque Madrid Rio, which stretches along the Río Manzanares, the planetarium and the Atocha station.
NH Madrid Ribera del Manzanares ****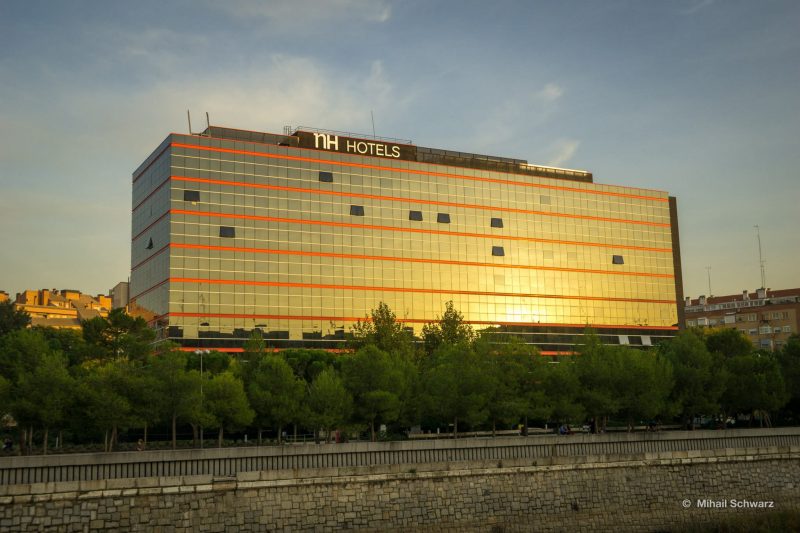 A riverside hotel with a terrace, pool and fitness room (booking.com).
Retiro is a district whose main part is occupied by Retiro Park.
Tetuán is a former migrant neighborhood where different cultures mingled. The local municipality building, the Palace of Congresses, the main mosque and the Joan Miró square are the most interesting sights in Tetuán. Ethnic restaurants and stores are open in the area. Housing is noticeably cheaper.
Chamartin is the capital's most expensive neighborhood, with modern skyscrapers juxtaposed with the architecture of the past. It is home to the AZCA business center, the twin towers of the Gate of Europe, the National Concert Hall, the Museums of Madrid History and Natural Sciences, the Canal Isabella II Park and Berlin Park, the Real Madrid Football Club stadium and the train station. It takes about 20 minutes by subway to get to the historic center.
Chamberí is a modern neighborhood with Neo-Gothic, Neo-Mudejar, and Art Nouveau architecture. Here are the Joaquin Sorolla House Museum, the National Geological Museum and the museum in the abandoned Platform 0 subway station.
How Much Do Hotels In Madrid Cost
When planning a trip, note that hotel prices in Madrid are highest in July, August, Christmas and New Year's holidays. In April and September you can save a little money on lodging. Prices for accommodation also depend on the location of hotels and the amenities provided.
A room at a B&B (bed and breakfast) will cost from €50 per night;
studio in the center – also from about €50 per night;
room in a 2-star hotel – from 55 €;
room in a 3-star hotel – from €60;
room at a 4-star hotel – from €80;
room for two at a 5-star hotel – from €105.
To explore the city, the central areas of Madrid are interesting. Here you will find comfortable hotels and apartments at very democratic prices.
In the business and new areas of the capital, such as Salamanca and Chamartin, there are only expensive new hotels with a high level of comfort. Room prices are higher than in the city center (a junior suite costs up to €700).
Look for discounted hotels on booking.com.
Can You Drink Tap Water
You can drink tap water in Madrid. It comes from mountainous northern springs. The city's water quality index is the best in the country.
Which Transportation Ticket To Buy In Madrid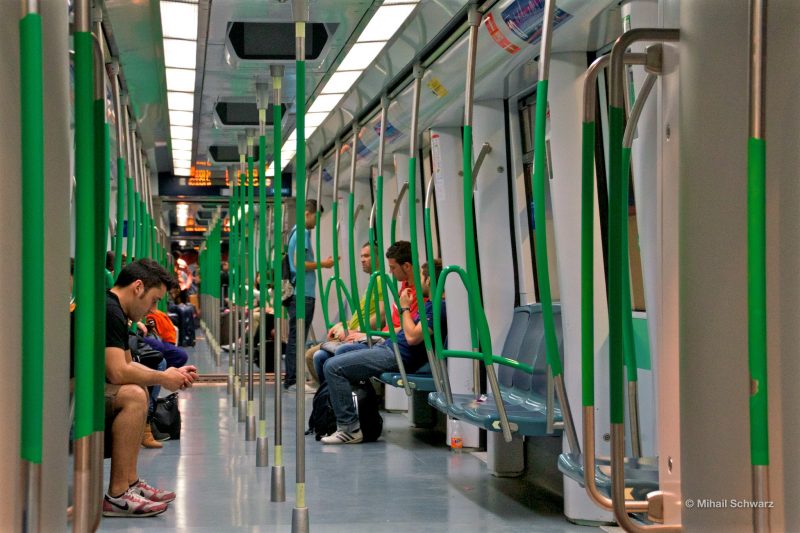 Public transport in Madrid includes buses, metro, streetcars, electric trains, cable cars and cabs. There are 8 fare zones in the capital (see diagram): 6 within the city and 2 suburban zones. Tourists usually travel within zones A and ML1 (line 1 of the high-speed streetcar (Metro Ligero)).
Travel in Madrid is done with special Tarjeta Multi and Tarjeta Personal cards, on the balance of which almost all types of tickets are credited.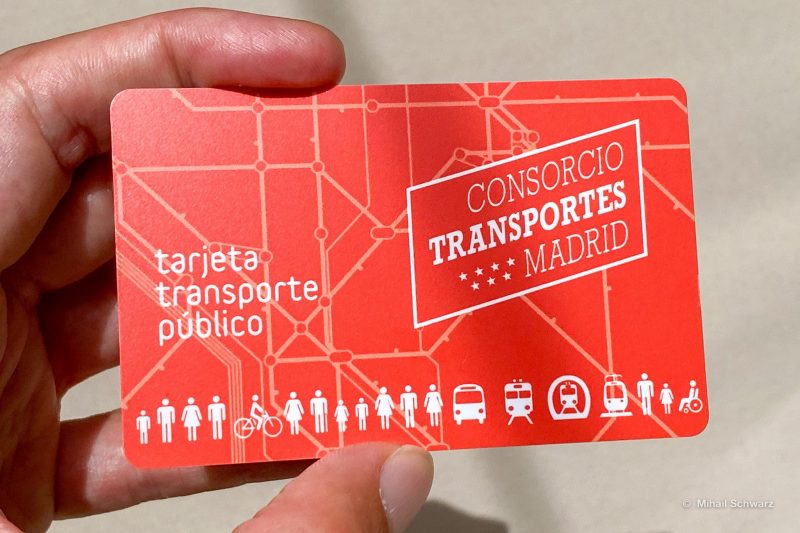 Tarjeta Multi – non-personal rechargeable contactless travel card, to the balance of which you can charge up to 3 tickets at a time, as well as tickets for 1 or 10 trips, a tourist pass and an additional fee for an airport ticket. Cost €2.50.
Tarjeta Transporte Público Personal (TTP) is a personal rechargeable contactless travel card on whose balance you can charge tickets for 1 or 10 trips, annual and monthly passes, an additional airport ticket fee. Cost €4.
Buy a transport card for €2.5 from a machine. Refill at once for 10 rides. Use one card for several people, no need to buy a card for everyone.
Fare
Billete sencillo – €1.5 ticket for one subway ride (zone A and ML1) for up to 5 stations; from 6 to 9 stations you will need to pay €0.10 extra for each station, and for 10 or more stations extra €2.
Billete Combinado Metro – 1-trip combination ticket for €3; it entitles you to 1 trip on the metro regardless of the zone (except for the fare to the airport).
Billete EMT – 1 trip ticket on the bus for €1.5.
Billete Exprés Aeropuerto – Express ticket to the airport for €5.00.
? Billete Metro Zona A, EMT y ML1 (Metrobús) – ticket for 10 subway and bus rides for €12.20.
Children under 4 years of age ride for free.
See the official website CRTM for ticket types and fares.
Where To Buy A Ticket For Public Transportation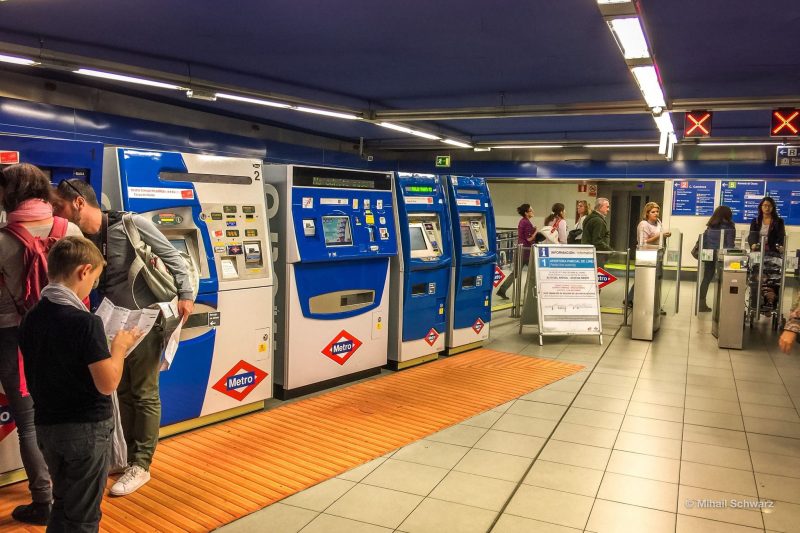 In ticket vending machines at subway stations;
at newspaper and tobacco kiosks;
at ticket booths at train stations;
at major bus stops;
at information centers;
at the bus driver;
tickets for Cercanias electric trains are sold at the ticket offices or vending machines at Atocha and Chamartín stations or on the Cercanias website.
Tourist Tickets
Another option is to purchase a ticket not for the number of rides, but for the duration: 1, 2, 3, 5 or 7 days. This ticket is called the Abono Turistico or Tourist Travel Pass and allows you to use all modes of transportation in Zone A, as well as high-speed streetcars, buses and electric trains in Zone T. It is sold at metro ticket offices.

Which Double-decker Tour Bus Is Better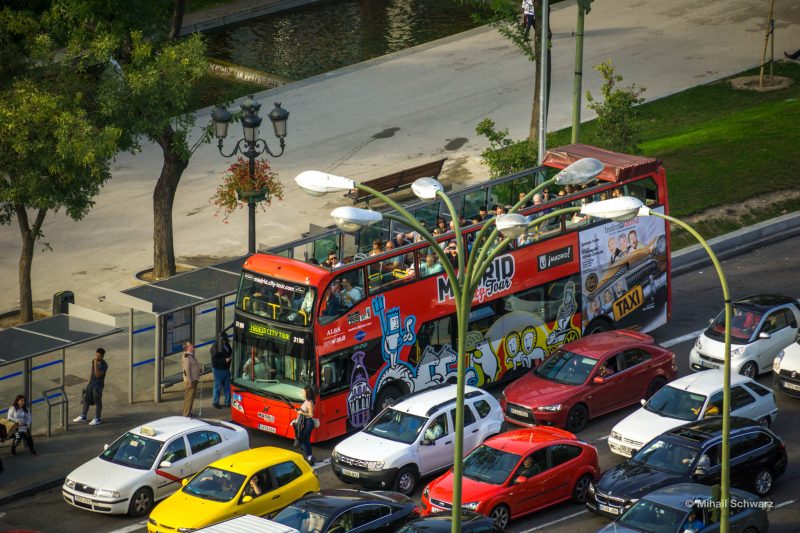 Another convenient way to get around the city is the red Madrid City Tour bus, which operates on the Hop On Hop Off principle. Buy a ticket for 1 or 2 days, get on the bus, put on headphones with an audio tour and enjoy the views of monuments and sights, streets and squares. At any time you can get off and get back on the bus.
Madrid City Tour buses run on two routes:
Historic Madrid
Modern Madrid
Two night tours are added in the summer.
You can purchase tickets in advance on this website. See a map of the stops here. Along with the tickets you will be given a map of the routes and a book with discount coupons for other tourist sites.
Which Tours To Go On In Madrid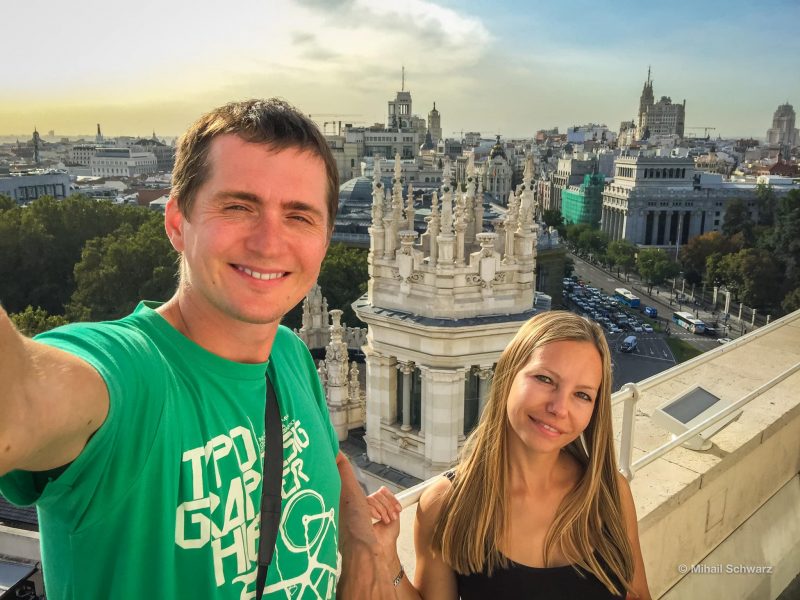 Free Tours In Madrid
Go on a free sightseeing tour with a local guide:
Where To See Flamenco In Madrid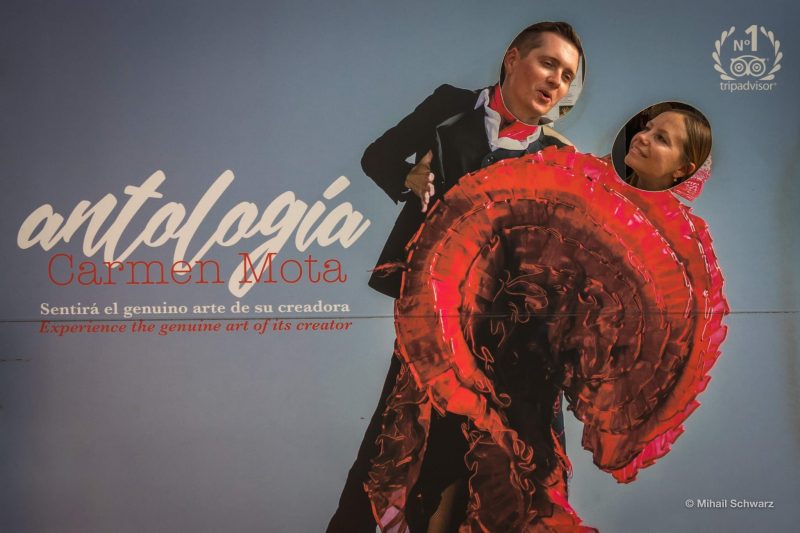 What To Do With Children In And Around Madrid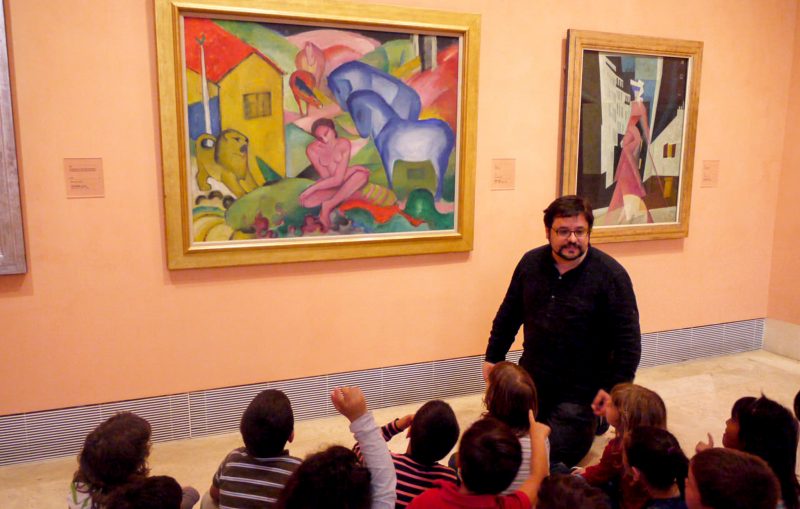 Adult tourists' plans include sightseeing and trips to museums. And for family vacations, the list goes something like this:
enjoy the beautiful views of the capital from a height of 40 meters, sitting in a comfortable cabin of the El Teleférico cable car;
in the Casa de Campo park, check out the zoo and aquarium, ride the rides, take a boat trip on the lake and have lunch in a cozy restaurant;
play on the playground in Retiro Park, see the rose garden and the Crystal Palace. There's also a large artificial lake and boats for rent. On weekends there is live music and puppet shows in the park;
in the Faunia nature theme park, feel the unity with nature: the cold of Antarctica and the tropical heat of the Amazon jungle. Thousands of animals and inhabitants of the depths live here. For the little ones there is a contact zoo;
in the Royal Botanical Garden (Real Jardín Botánico) to stroll through the olive alley, the orchard, the rose garden, in the apothecary kitchen garden to find familiar plants, and in the greenhouses to see cacti and tropical flowers;
on the banks of the Manzanares River is the Madrid Rio recreational area. There are sports and playgrounds, walking and biking paths, a beach with a swimming pool;
in Parque del Oeste, you can not only take a walk with your child, but also see the restored Egyptian temple of Debod;
visit the best museums in the world – Prado, Thyssen-Bornemisza Museum, Queen Sofia Art Center, and introduce children to the masterpieces of world art. Moms with small children can borrow a stroller for free, there are special places for feeding and changing;
Mousey Perez is a character in a fairy tale invented for little Alfonso, the future king of Spain. He has his own house museum (Casa Museo Raton Perez), where you should see the milk teeth of celebrities and learn how important it is to take care of your teeth from an early age;
walk around the Royal Palace (Palacio Real de Madrid) and feel like a prince or princess;
at the Museo Nacional de Ciencia y Tecnología, see ancient gramophones, televisions, a phonograph, an arithmometer, the first computers, a prototype of the modern microscope, and a collection of vintage cars of the royal family;
visit the Railway Museum (Museo del Ferrocarril de Madrid), which is located in the territory of the old train station. There are creative workshops for children and a ride on the Strawberry Train. On Sundays once a month, the museum has a flea market where they sell model trains;
at the Planetarium, take a trip into space and learn a lot about it, look through a real telescope;
appreciate the exhibitions of the Naval Museum (Museo Naval), the museums of aviation (Museo del Aire), firemen (Museo de Bomberos), history of Madrid (Museo de Historia de Madrid) and America (Museo de America), wax figures (Museo de Cera de Madrid). Take part in educational quests;
in Circus Price (Teatro Circo Price) to see the performance of artists of different genres, except animal trainers. Children from 5 to 14 years old are invited to master classes in the circus studio;
children from 3 to 14 years old can earn their first wage at the Micropolix Vocational Town play centre by learning a profession and use the euriks they earn as they wish;
fans of Real Madrid soccer club to go on tours of the Stadio Santiago Bernabeu;
go skiing (you can even do it in summer!) at the Madrid Xanadú shopping mall, where the all-season Madrid SnowZone ski area with 2 pistes, ski elevators and a ski school is open. The mall also has miniature golf, bowling and the Xanadu Nickelodeon Slime Zone with entertainment and workshops for children from 1 to 13 years old;
have fun at Warner Brothers Theme Park, which is located 25 km from the center of the capital. It's a huge city of entertainment consisting of 5 themed areas. There's Cartoon Village, Superhero World, Hollywood Boulevard, Wild West and Warner Brothers Studios;
go for a swim at the Aquapolis water park. There are two on the outskirts of Madrid – Aquopolis Villanueva de la Cañada and Aquopolis San Fernando de Henares;
go with children to the Safari de Madrid theme park for a safari. Right from the car, view and feed the animals. In the contact corner, kids are allowed to pet goats, ponies and pigs. The park has slides, a go-kart and an outdoor pool;
climb in the rope park De Pino a Pino. It is suitable for families with children over 5 years old. The park has a total of 7 trails of varying difficulty;
In the Botanical Garden of the Enchanted Forest (El Bosque Encantado), in the municipality of San Martín de Valdeiglesias, you can admire plant sculptures, a waterfall, a green maze, rare trees, bonsai and cacti.
Bicycle Rentals In Madrid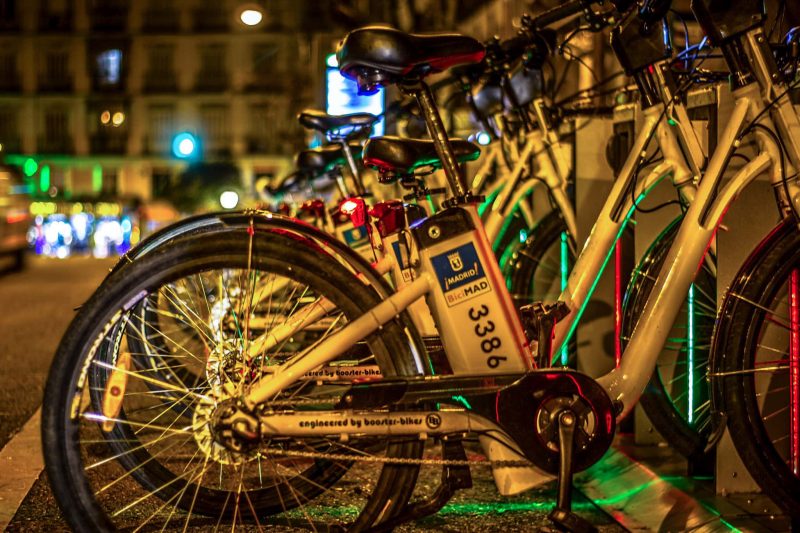 By bike, you can see Madrid at your own pace. To save time and money, book bikes, motorcycles and scooters at BikesDooking.com.
The availability of a free bicycle at the nearest rental point will be shown by mobile apps:
BiciMAD is an electric bike rental service
Bicycle tours and bike rentals:
Where To Eat In Madrid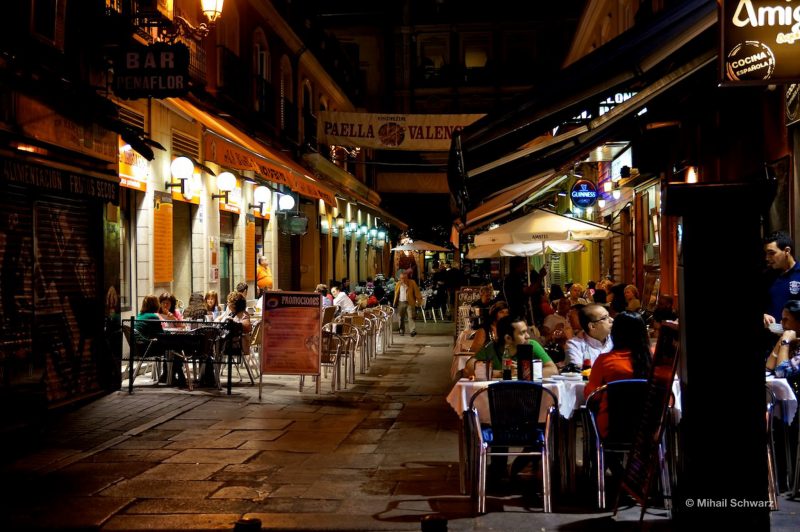 If you want to have a delicious and inexpensive lunch in Madrid, look for restaurants on a weekday between 1 and 4 p.m. where the Menu del Dia is written on the board in front of the entrance. This is the equivalent of a business lunch. It includes a first and second course (choice), wine, water or coffee, bread and dessert. A set daily menu will cost you €8-15. You may also come across Plato del Dia (dish of the day for €7-12) and Combinado (hot dish + salad).
Restaurants Serving Spanish Cuisine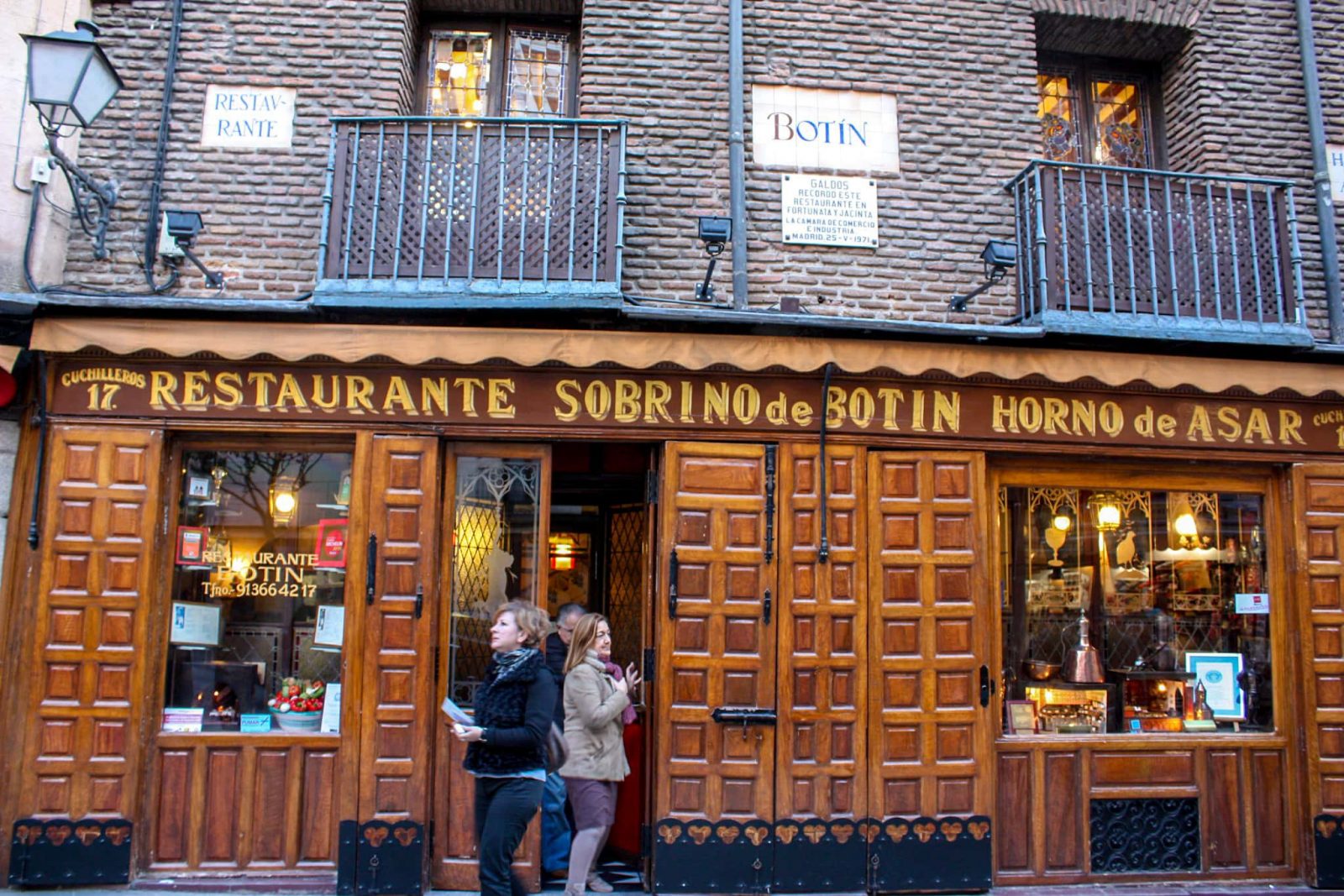 Taberna Malacatín (Taverna Malacatín) makes an excellent Madrid stew (cocido madrileño).
The specialties of Sobrino de Botín's oldest restaurant are roasted suckling pig (cochinillo asado, cochinillo asado) and an egg cooked in chicken broth with sherry and garlic (sopa de ajo, sopa de ajo).
In the cozy little old restaurant Bodega de la Ardosa, try the tortilla, fried eggplant, cow cheeks, fried calamari, artichokes, homemade vermouth, fresh beer. Check from €16.
In the old tavern Freiduría de Gallinejas Embajadores you will be fed with roasted lamb giblets.
Meson Restaurante La Mi Venta's menu is small, but it lives up to the wine-and-meat concept! Get the T-bone steak, entrecote, lamb chops, and goat. All dishes are accompanied by grilled potatoes and peppers. Large selection of regional Spanish wines. Check from €30.
At the tapas restaurant Juana La Loca order mushroom risotto, foie gras, jamon, oxtail, tuna tartare. Check from €20.
Enjoy Madrid's cocido soup at La Bola. There are also delicious madrid rice, rumen dishes, garlic soup (sopa de ajo española), and apple doughnuts (rosquillas de manzana). Check from €30.
Matilda is a little gem of the literary district. The room is small, but the food is very good. The menu of the day costs only €12.
Taberna La Charca is the best Asturian restaurant. You'll love the cachopo, which is ham and cheese wrapped in veal fillets and breaded; grilled squid with onions in ink (chipirones de anzuelo plancha con cebolla en su tinta); and hake kebab (merluza de pincho). There's a menu del dia for €14.50.
Taberna El Zorzal is a typical Spanish bistro tavern with modest prices and delicious food. Menú del Día costs €15.00.
La Catedral has delicious Spanish food, especially seafood paella, and a beautiful interior. A lunch consisting of gazpacho, a cod dish and a glass of light wine will cost €21.
You Can Get A Quick And Inexpensive Snack Or A Full Meal At Tapas Bars, Snack Bars, And Cafes
When you order any drink at El Tigre Sidra Bar, you get tapas for free. The appetizers include chicken wings, sauteed potatoes, various tapas and tortillas.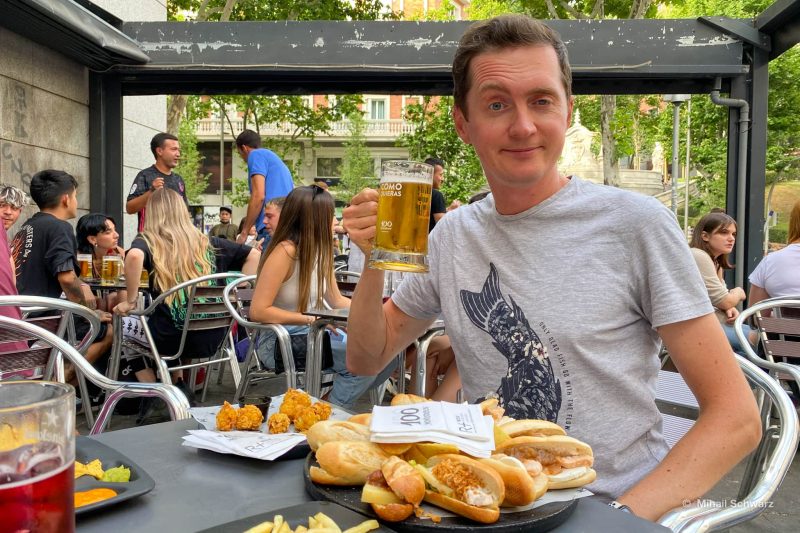 When you only have a grand in your pocket and you're craving a banquet, check out 100 montaditos, a hobo café. You can find them all over Spain. There are 100 varieties of tapas on the menu for €1 each. Usually it's a bun with a dip and a slice of something, but how pathetic it looks. On Wednesdays and Sundays there is a "Euromania" promotion – almost all appetizers are available for €1. For €10 to €15 there won't be room on the table! Instagram will be yours.
The "highlight of Taberna Almería's menu" is the 34 tapas (all for €3.50). The most popular are those with goat cheese and onions, with chorizo and salchichón, and with jamón. They also make delicious empanada and patatas con allioli.
Bar Selva offers a cheap and delicious meal. The menu of the day costs €11.
At Casa Toni Diner, the food is hearty and simple. Order pork ears, shrimp, spicy potatoes, croquettes, peppers and eggplant, and try the local sangria.
Café Pez Tortilla makes a fantastic tortilla (tortillas) with cheese, fish, meat or vegetables.
The Casa RUA bar makes calamari sandwiches.
When you need a quick snack, head to one of the Rodilla chain establishments that are known for their sandwiches.
If you like healthy food, check out the Honest Greens chain of restaurants serving locally sourced, organic food.
Markets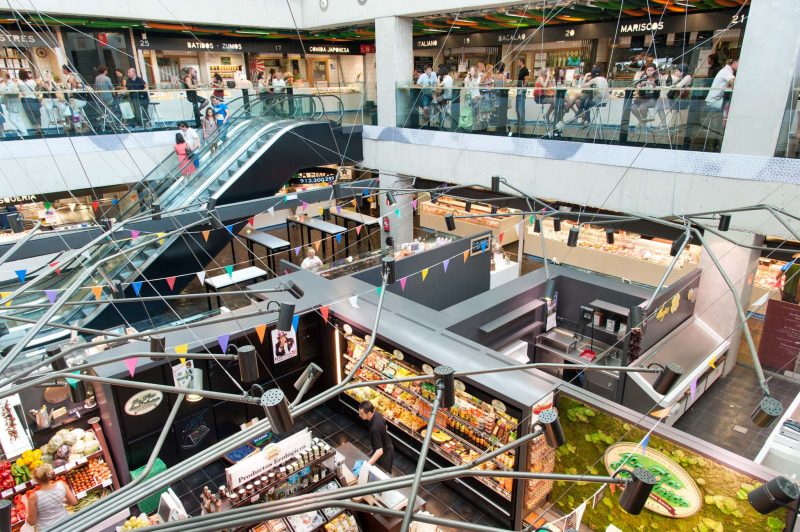 You can enjoy delicious, freshly prepared food and drinks or buy them to take away in Madrid's food markets. The most popular ones are Mercado San Ildefonso and Mercado San Antón.
What To Try In Madrid
Bocadillo with squid is a sandwich with crispy deep-fried squid rings.
Cocido madrileño is a hearty stew of different types of meat, chickpeas, and vegetables.
Tortilla de patatas is a Spanish omelet whose mandatory ingredients are eggs, potatoes, and onions.
Huevos rotos are fried eggs served with jamon or chorizo fried in olive oil.
Callos a la madrileña is a madrid-style tripe with a specific spicy flavor. It is made from beef or sheep tripe with the addition of chorizo, morsilla and jamon, paprika, tomato sauce, garlic and spices.
Besugo a la madrileña (sea bream) baked in breadcrumbs with parsley, garlic, olive oil and lemon.
Madrileña-style snails (Caracoles a la madrileña), which are made with meat broth with jamón or sausage, onions, garlic, wine and spices.
Churros are a traditional Spanish pastry made of custard dough fried in a deep fryer.
Tapas are light snacks.
Gazpacho is a light, cold soup made from pureed fresh tomatoes, cucumbers, peppers, garlic, white bread and spices, with the addition of tabasco sauce, olive oil and lemon juice.
Paella with seafood.
Fabada is a thick and greasy white bean soup with bacon, pork ham, chorizo, paprika, and saffron.
Milk pig (Cochinillo asado) baked in a wood-fired oven.
Jamon is a raw pork ham.
St. Isidore's Salad (Ensalada de San Isidro), made with lettuce leaves, eggs, olives and canned tuna.
Soldaditos de Pavia. They are battered pieces of soaked salted and dried cod with a "dressing" of red pepper. The dish recalls the battle of Pavia in 1525.
What Local Alcoholic Beverages
Wine. The capital of Spain has its own winemaking region, D.O. Vinos de Madrid. The vineyards are located in the areas of Navalcarnero, Arganda del Rey, San Martín de Valdeiglesias and El Molar. Red, white and rosé wines are made here. Among the reds, Bernabeleva Carril del Rey, El Repiso Crianza, Viñas Viejas Crianza, M de Monroy, Roble, Petit Joven, Armonium, Dividivo, El Regajal, Felix Martinez, Libro Siete Las Luces, Licinia, Manu, Marañones, etc.; The best whites are Navaherreros Blanco, Monroy Blanco Malvar, Cantocuerdas.
Sangría is a mix of red wine, fruit, spices and ice.
Tinto de verano literally translates as summer wine. It's a cocktail of wine, soda, ice, and a slice of lemon or orange.
Beer (Cerveza). La Virgen brewery brews classic beers under the names Madrid lager, Jamonera, 360, IPA, Trigo Limpio, Madrid lager sin gluten, Negra, Veraniega and Castañas. There are 11 varieties of La Cibeles beer in the range of La Cibeles brewery. FM brewery (Fábrica Maravillas) produces eight Maravillas beers. Cervezas Artesanales Lest S.L. produces German type beers, the best varieties are Odin, Thor, Skadi, Freya. The Enigma brewery brews natural beers according to homemade recipes – Cervantes 400, Special Ale, Complutum, Origen.
Clara is a mixture of beer and soda (with a simple, slightly sweetened carbonated water Casera (con Casera) or with lemon soda (con limón).
Sherry (Jerez) is a fortified wine made from white grapes with an alcohol content of 15-22%.
Cider (Sidra) is a low-alcoholic beverage made by fermenting apple juice.
Vermouth (Vermut) is a fortified wine with an aroma of wormwood.
Strawberry liqueur (Licor de madroño) is served in waffle cups dipped in chocolate, which you can also snack on.
Anis de Chinchón is a vodka made from anise seeds. It is 35% sweet (Dulce), 43% dry (Seco) and 74% dry special (Seco Especial).
Pacharán is a liqueur made from blackthorn berries with various spices and additives. Its alcohol content is between 23 and 30%.
Firewater (Aguardiente) is a grape vodka with an alcoholic strength of 30-59%.
Is It Customary To Leave A Tip In Madrid
It is customary to leave a tip of up to 10% of the order value. If the bill is small (up to €10), round up to the euro.
What Is The Best Time To Go To Madrid
The tourist season in Madrid lasts all year round, but there is an especially large influx of tourists from March to November.
The high season is spring and fall. This is the most favorable time to visit the Spanish capital. It is warm during the day, but gets cooler in the evening.
The low season is from July to August and from December to February (except Christmas holidays). This is due to unsuitable weather conditions for exploring the city. The climate in the capital of Spain is continental. Summers are hot and dry. The average temperature in July is +25 ° – +26 °, but sometimes it reaches +40 ° C. In addition, in July and August, many cafes and restaurants close, the vacation season in Spain begins. The winter in Madrid is cool and rainy with occasional snowfalls. The average January temperature is +5° – +6°.
Where To Buy Groceries
In supermarkets Mercadona, Lidl, Mercur, Aldi
in markets
How To Get From Madrid Airport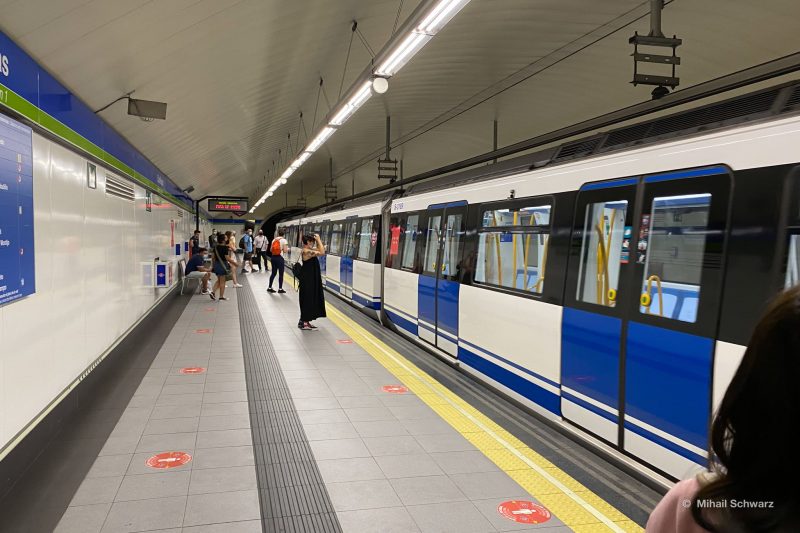 From the main airport in the Spanish capital Adolfo Suárez Madrid-Barajas there are various ways of getting to the city centre.
Consider how to get to the airport by bus, subway, train, or cab.
On the bus
The Exprés Aeropuerto (express bus) is the most convenient way. The duration of the trip from terminal T1 is about 30 minutes, from T2 longer by 5 minutes and from T4 add another 5 minutes.
City buses are the cheapest option.
Bus 101 departs from Canillejas, passes through the airport (T1, 2, 3) and arrives in the city of Barajas.
Bus #200 runs from the airport (T1, 2, 3, 4) to Avenida de América.
On the subway
The subway (line 8) connects all airport terminals to the Nuevos Ministerios station in the center of Madrid. The ride is 12-15 minutes.
By train
The Renfe train will take you from the airport (T4) to the center of the capital in 38 minutes. You need line C1 (Príncipe Pío – Atocha – Recoletos – Chamartín – Aeropuerto T4) and line C10 (Villalba – Príncipe Pío – Atocha – Recoletos – Chamartín – Aeropuerto T4).
By cab
Who appreciates comfort, I suggest ordering a transfer, for example, from GetTransfer.
On a rental car
There are rental agencies at the airport itself. You can compare prices from different rentals here.
How To Buy Tickets For Trains And Buses In Spain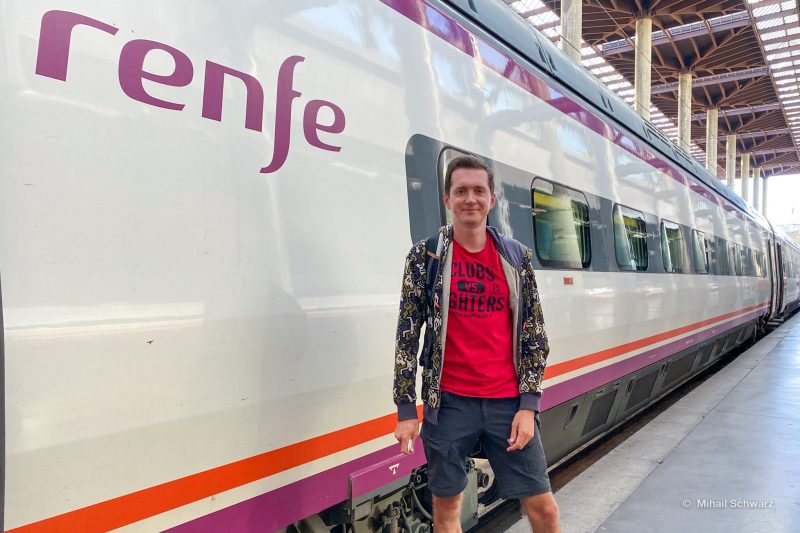 Busbud a service for booking tickets for trains, buses and planes.
Renfe's website sells tickets for trains anywhere in Spain.
It's comfortable to travel on Alsa buses. Tickets are posted in advance on the company's website, and there are many discounts and promotions.
How To Get From Madrid To Barcelona
By train
From Atocha station from Madrid-Puerta De Atocha station there are high-speed trains AVE (carrier Renfe AVE) to Barcelona. Tickets cost €60-120 and travel time is about 3 hours.
On the bus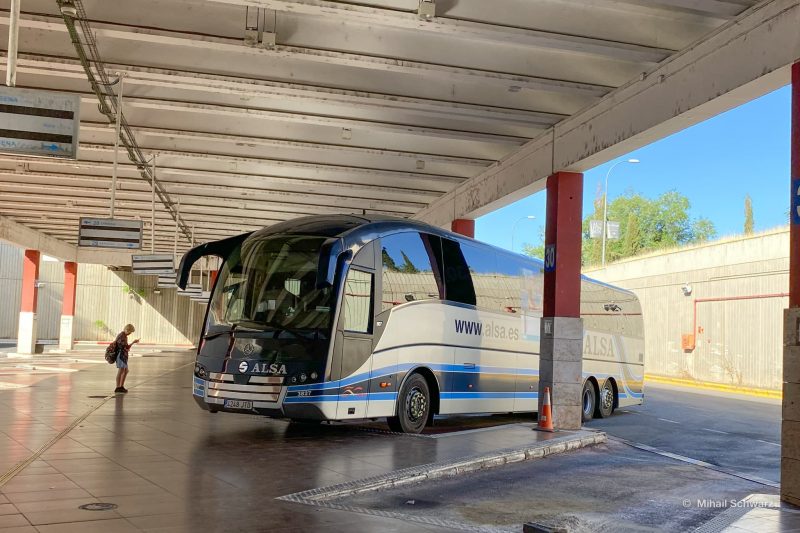 A budget trip is obtained by bus ALSA, which leaves from Barajas airport T4 or from the Avenida de América bus station (la terminal de autobuses del intercambiador de Avenida de América). The fare is €30-65 and the journey takes about 8 hours.
On the car
In a rental car, you will cover the distance of 617 km between the cities in about 6 hours, spending 49 liters of gasoline at a cost of about €64.
On an airplane
There are planes between Madrid and Barcelona. But it's long and expensive.
Where To Go For A Day Out Of Madrid
Alcala De Henares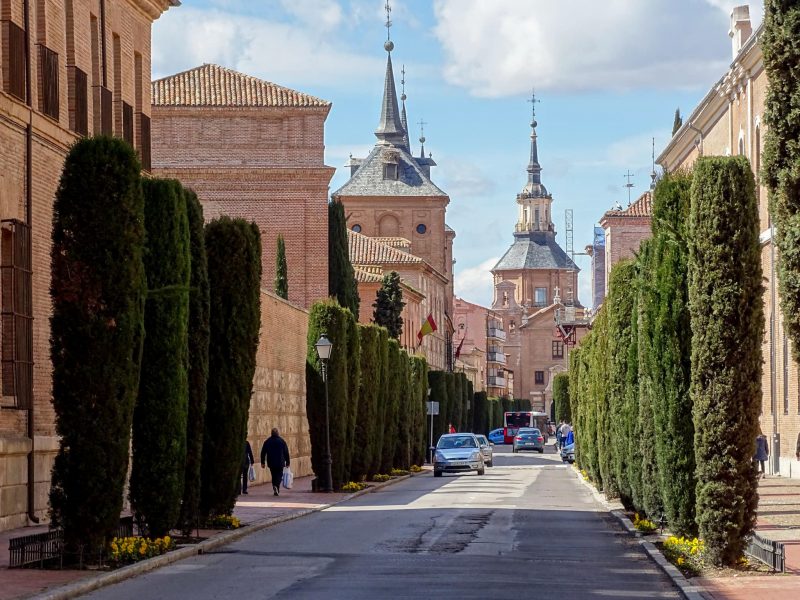 Alcalá de Henare, 30 km from Madrid. The city center is recognized by UNESCO as a World Cultural Heritage Site. Sightseeings: Gothic cathedral church, the Archbishop's residence (Palacio Arzobispal) with the Inquisition archives, the Martyrs' Gate (Puerta de Mártires), Miguel de Cervantes house-museum (Casa Museo de Servantes), the Comedy Theater, one of the oldest in Spain; University and the San Ildefonso College, Mayor Street. Alcalá is famous for its gastronomic traditions. From Madrid there is a train Cervantes, in which the conductors are dressed in costumes from the Gilded Age. How to get there.
Chinchon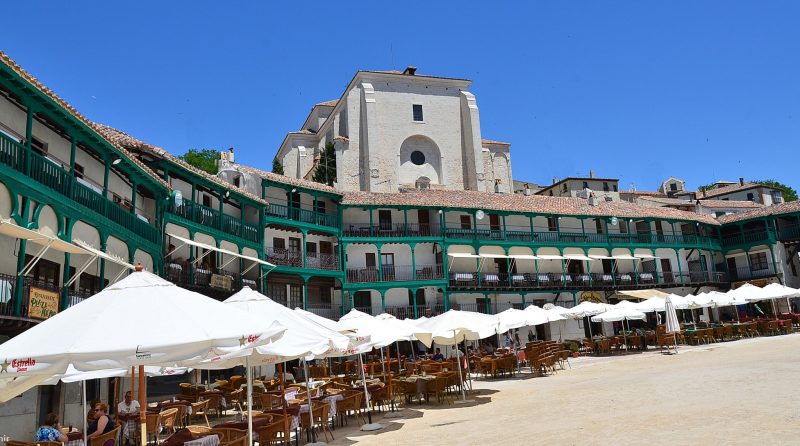 Chinchón, 45 km from Madrid. The town is distinctive and interesting, surrounded by vineyards and olive orchards. Its main attraction is the Plaza Mayor, an example of traditional Castilian architecture, with porticos, stepped roofs and 234 wooden green balconies. In Chinchon there is a tower without a church and a church without a tower, the castle of the Counts of Chinchon, the convent of the Clarisse, several churches and the ruins of Casasola Castle. How to get to Chinchon.
Manzanares El Real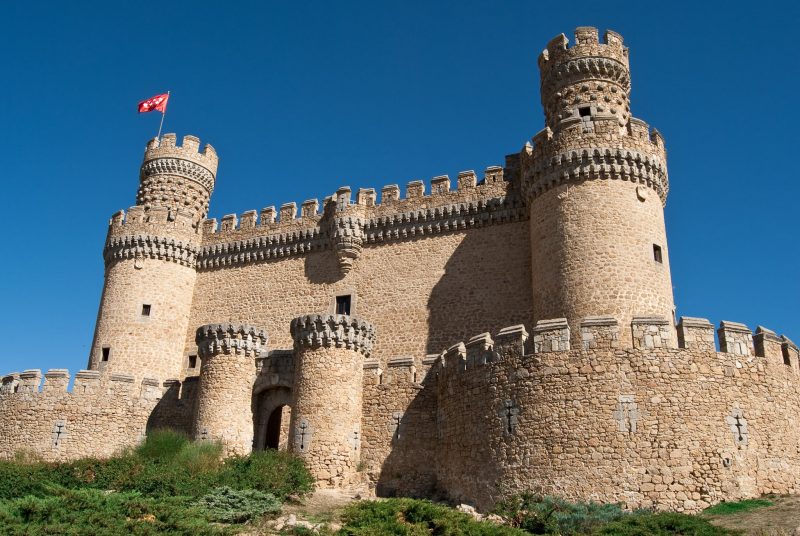 Manzanares el Real, 50 km from Madrid. The town has a medieval castle of the Dukes of Infantado (Castillo de Manzanares el Real). How to get there.
Aranjuez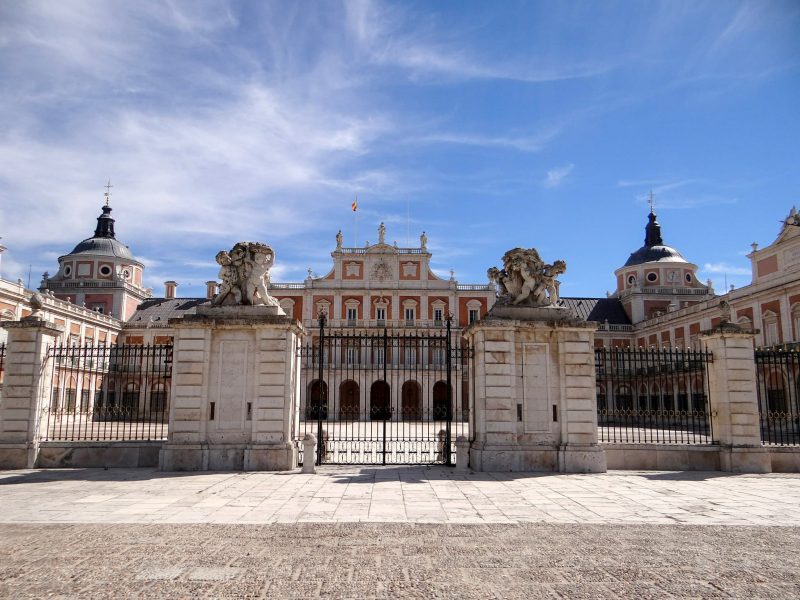 Aranjuez, 50 km south of Madrid. Nice and cozy town, famous for the Royal Palace, luxurious parks, beautiful streets, strawberry and asparagus gardens, and the Aranjuez Concert of Joaquin Rodrigo. From Madrid, you can take the Strawberry Tourist Train. How to get there.
Valle de los Caídos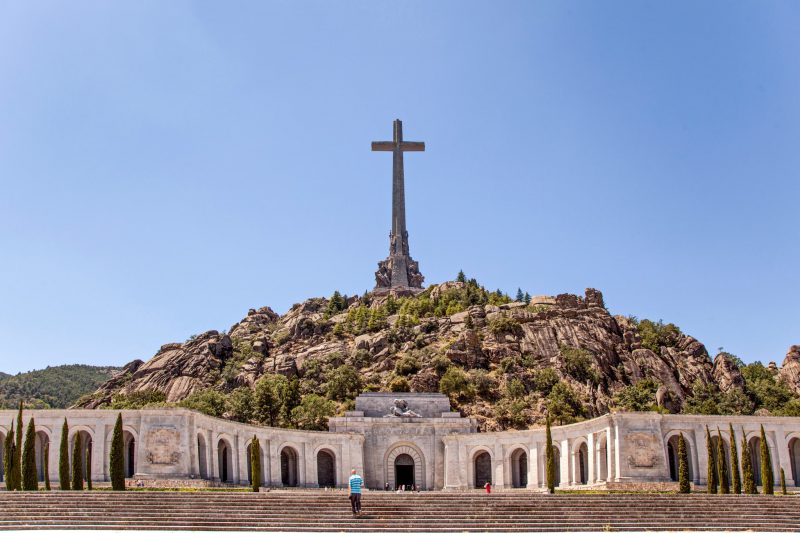 Valley of the Fallen (Valle de los Caídos), 58 km from Madrid. The monumental complex is located 5 km from the Escorial in the mountains of Guadarrama. It consists of a 150 m high cross, sculptures, an abbey, a basilica carved into the rock and a crypt. It was erected in the middle of the XX century in memory of the victims of the Civil War. How to get to the Valley of the Fallen.
Guadalajara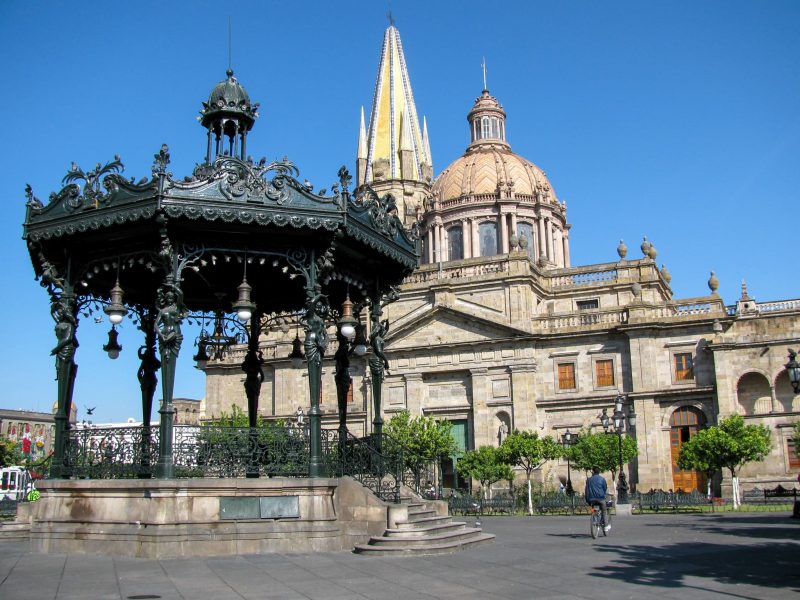 Guadalajara, 60 km from Madrid. The city was founded by the Arabs in the 8th century. During the Civil War it suffered a lot.
Nevertheless, the center is full of sights, among them the Arab bridge (Puente Árabe), built by the Romans in the I century and rebuilt by the Arabs in the VIII-X centuries, the ruins of the Alcázar (Alcázar Real de Guadalajara) of the IX century, the Santa María la Mayor (Iglesia de Santiago el Mayor) of the XIV-XVII centuries, the Tower of Álvar Fáñez (Torreón de Álvar Fáñez) of the XIV century, The ancient churches and monasteries, the XVI century Palace of Antonio de Mendoza (Palacio de Antonio de Mendoza), which today houses the Provincial Museum, the bullring (Plaza de toros), the XIII century Castle of Zafra (Castillo de Zafra). How to get to Guadalajara.
Colmenar De Oreja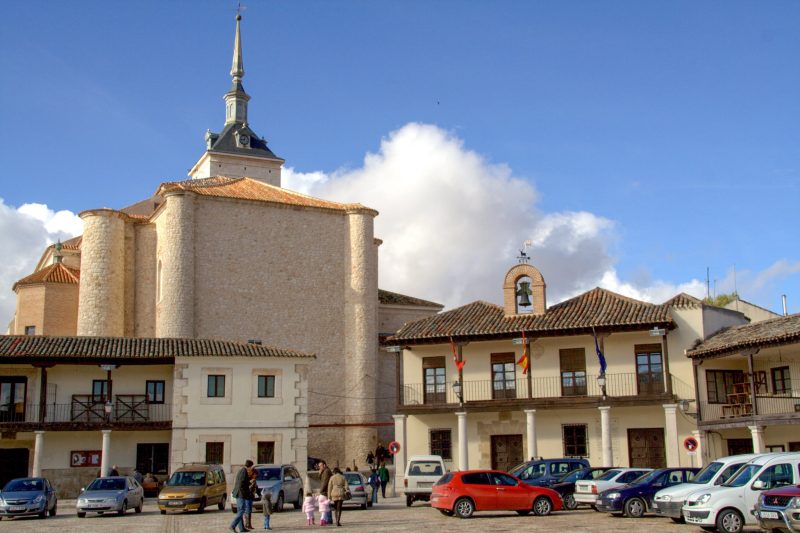 Colmenar de Oreja, 60 km from Madrid. What to see in the town The authentic central square Plaza Mayor, the medieval 13th century church of Santa Maria la Mayor, the museum of the painter, sculptor and poster maker Ulpiano Checa (Museo Ulpiano Checa), the hermitage at the outskirts of the Holy Christ (Ermita del Cristo), whose chapel dates back to the XVI century. Not far from the town are the ruins of the fortress of Castillo de Oreja. How to get there.
Escorial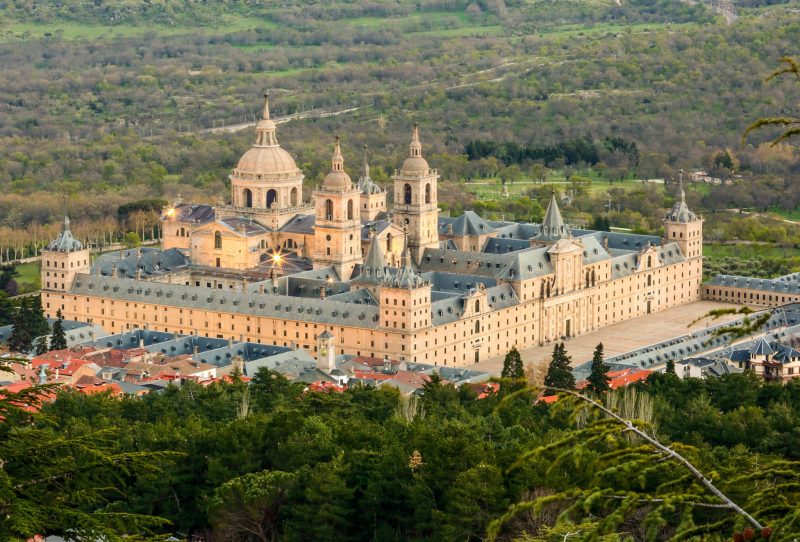 Escorial (Monasterio de El Escorial), 62 km from Madrid. It is an architectural complex that includes the royal palace, residence and pantheon, a monastery with a basilica, museums, a library and gardens. The Escorial was built in the XVI century by king Philip II of Spain, at the foot of the Sierra de Guadarrama. How to get to Escorial.
Parque nacional de la Sierra de Guadarrama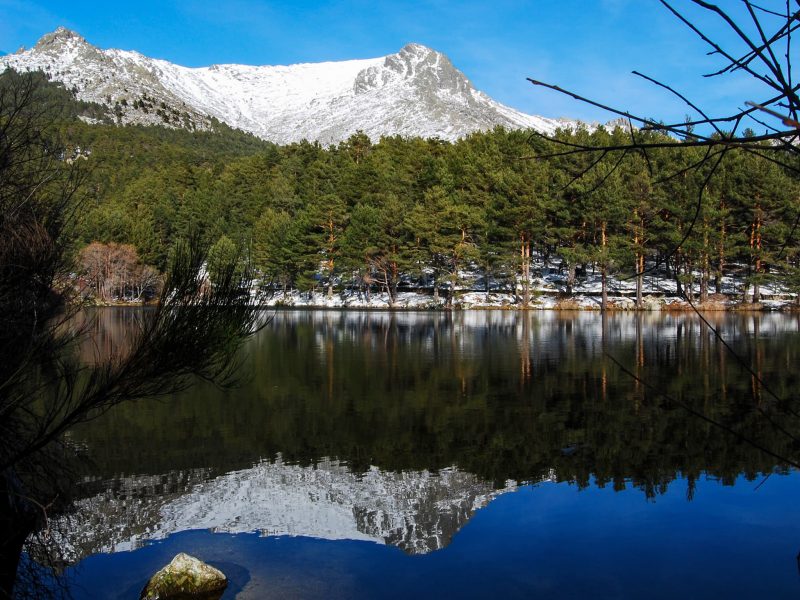 Sierra de Guadarrama National Park (Parque nacional de la Sierra de Guadarrama), 70 km from Madrid. The park consists of 11 ecosystems with more than 1280 animal species and 1,500 plant species. The most popular places are considered Peñalara Natural Park. On the slope of Mount Peñalara there are glacial lakes and the picturesque granite ridge of La Pedriza. How to get there from Madrid.
Toledo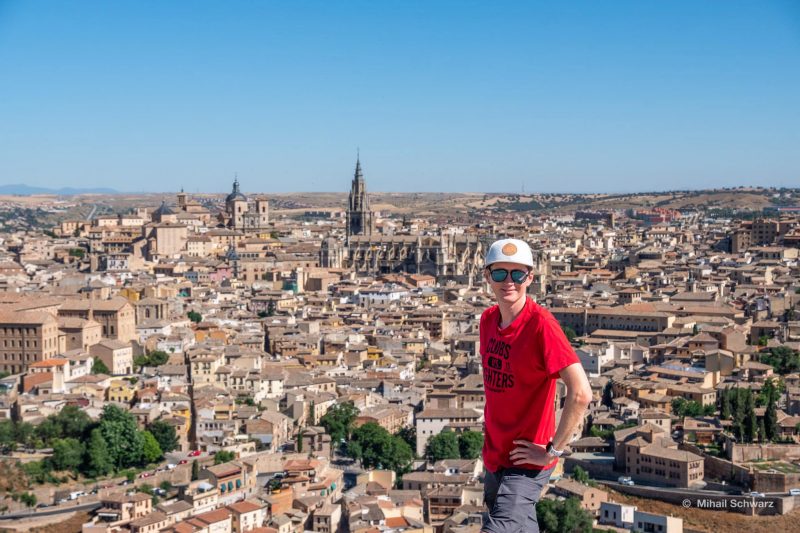 Toledo, 72 km from Madrid. It is a medieval city with a rich history and unique architectural monuments, listed by UNESCO. It is called the "City of Three Cultures", because Christian, Islamic and Jewish traditions are intertwined here. Until 1560 Toledo was the residence of the King of Castile and a religious center. Fragments of fortress walls with city gates, bridges, Alcázar and the Toledo Cathedral have been preserved. How to get to Toledo.
Buitrago del Lozoya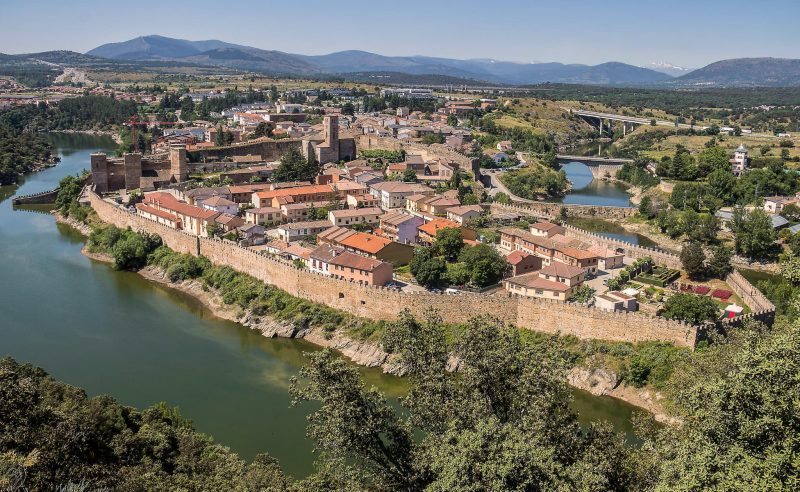 Buitrago del Lozoya, 78 km from Madrid. The historic center of the city is surrounded by a wall built along the river Lozoya in the XI century. Behind the ancient walls are the Castillo de Buitrago del Lozoya XV century Mudejar Castle, the XVI century Iglesia de Santa María del Castillo, the Clock Tower and the Museo Picasso. How to get there from Madrid.
San Ildefonso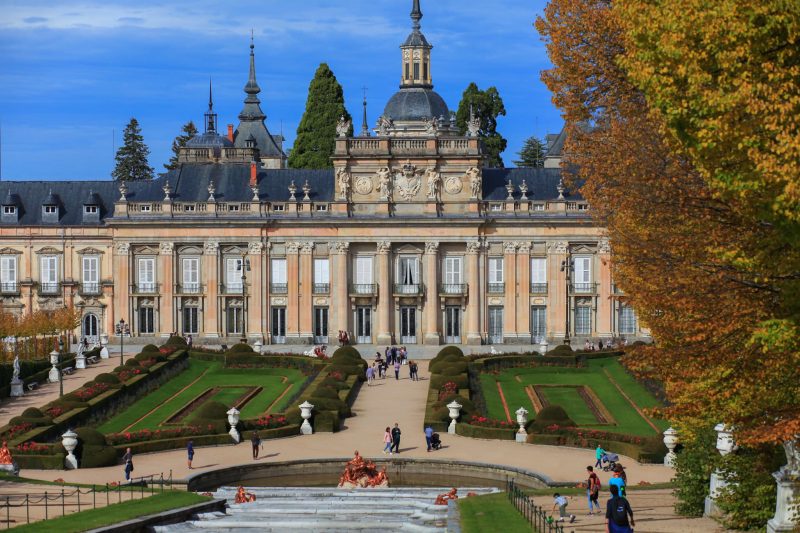 San Ildefonso, 80 km from Madrid. The main attraction of the city is the Rococo country summer residence La Granja, built in the XVIII century by order of King Philip V of Spain. An interesting museum is the Glass Museum at the Royal Glassworks (la Real Fábrica de Cristales). How to get there.
Segovia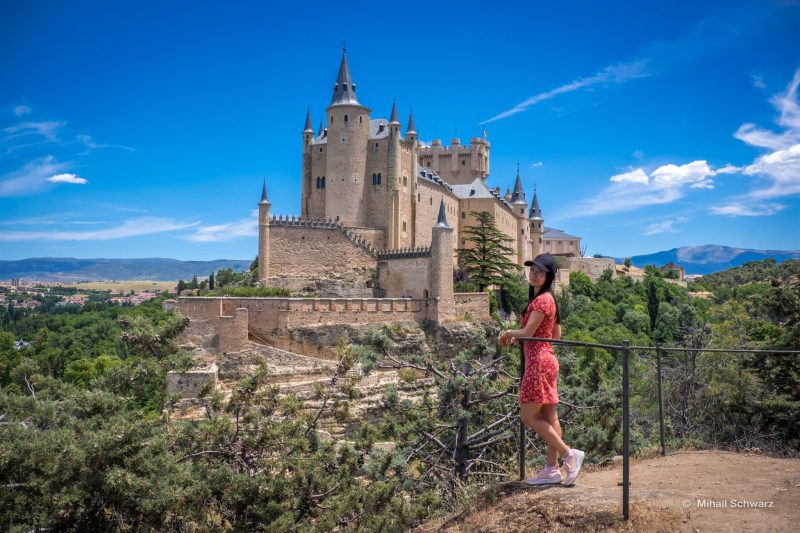 Segovia (Segovia), 96 km to the capital. A city with more than two thousand years of history, it is protected by UNESCO. It has an aqueduct from the Roman period, the Moorish Alcázar, Romanesque churches, a late Gothic cathedral and Renaissance mansions. How to get there.
Avila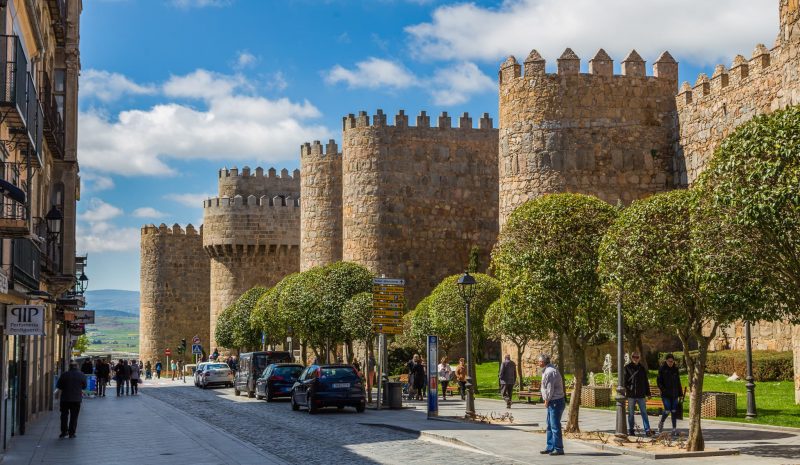 Ávila, 110 km from Madrid. Medieval town on the right bank of the Adacha. Its main attraction is the fortress wall, built in the XI-XIV centuries around the old town, which today is on the list of UNESCO. The Cathedral of Avila was part of the line of fortress walls and had a defensive function. Avila was the birthplace of St. Teresa. In the church of San Juan Bautista (Iglesia de San Juan Bautista) the font where she was baptized and in the Convento de la Encarnación she lived for 27 years. How to get there.
Pedraza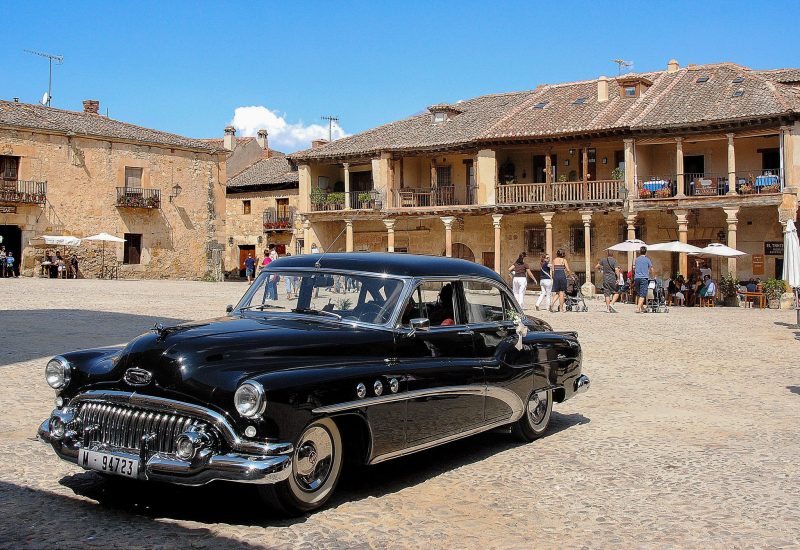 Pedraza, 124 km north of Madrid. It is a medieval walled town which has preserved its appearance to this day. The only city gate of the XVI century leads inside. The first thing you see when you enter the town is a XVI century prison. Of interest is the castle, built by the Spaniards in the XIII century on the ruins of Roman and Arab fortresses. At the beginning of the last century, the castle was bought by the artist Ignacio Suloago. Today it belongs to his descendants who have turned the former fortress into a museum. How to get there from Madrid.
Sigüenza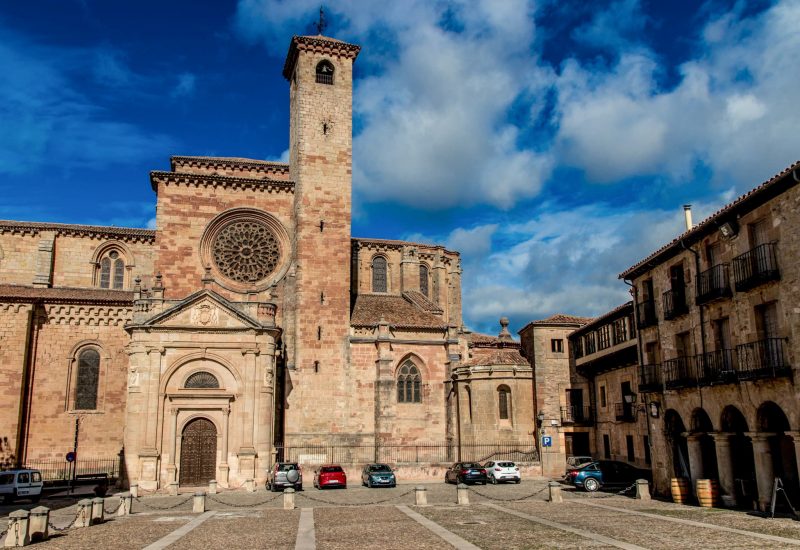 Sigüenza, 130 km from Madrid. The town has a XII century castle (Castillo de Sigüenza) built on the site of an Arab fortress. After the liberation of the Iberian Peninsula the fortress was a residence of bishops. Now it is a hotel. How to get there from Madrid.
Consuegra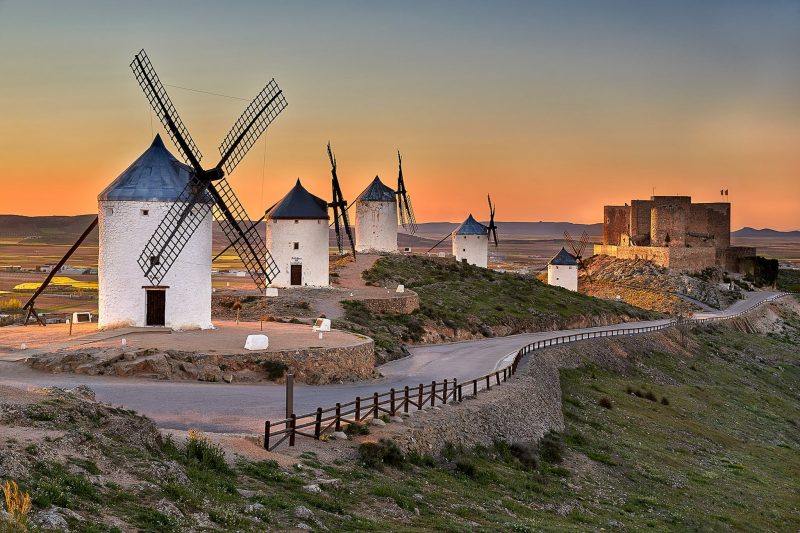 Consuegra, 137 km south of Madrid. The town is famous for its windmills built in the first half of the XIX century and the Castillo de la Muela, built during the time of the Visigoths. How to get there from Madrid.
Medinaceli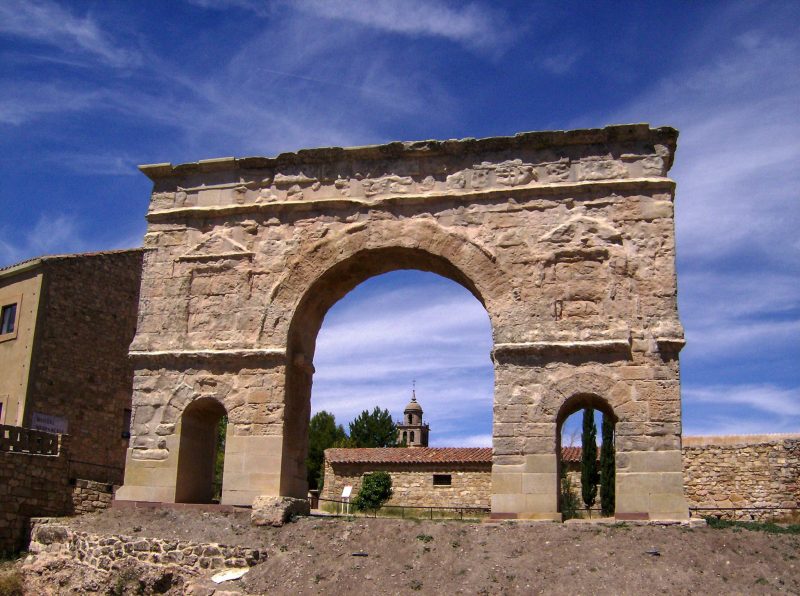 Medinaceli, 155 km from Madrid. The town has an ancient Roman triumphal arch, a Moorish castle, ancient churches and mansions, a refrigerated glacier with snow for long term storage of food. How to get there from Madrid.
Cuenca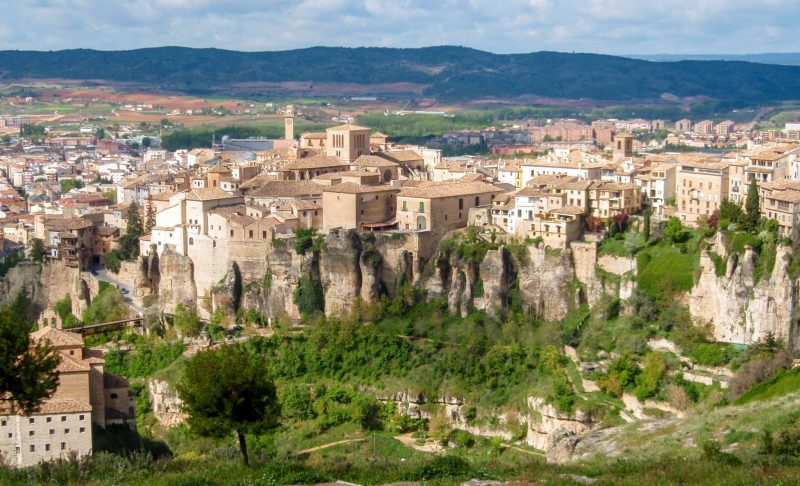 Cuenca, 168 km from Madrid. The city was founded by the ancient Romans in the 8th century. Cuenca is a UNESCO World Heritage Site as an example of a well-preserved medieval fortified city. The main attractions of the old city are the Plaza Mayor, a Baroque City Hall, a Gothic cathedral of the XVI century, the Tower of Mangana (Torre de Mangana) of XVI century in the Neomudejar style, the "hermitage of alarms" (Ermita de Nuestra Señora de las Angustias) of XVII century, the Bishop's Palace of XVI-XVIII centuries, "Hanging houses" with wooden balconies right above the cliff, monasteries and churches. From the bridge of St. Paul (Puente de San Pablo) you can take beautiful photos of the "hanging houses". How to get there from Madrid.
Ribera del Duero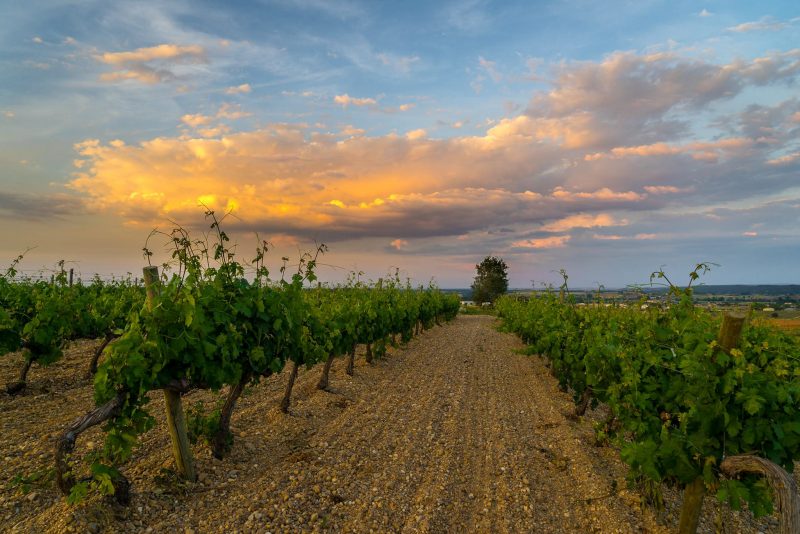 Ribera del Duero, 180 km from Madrid. A wine-growing region, known for its high-quality red dry wines. Here you can taste great wines and admire the landscapes.
Valladolid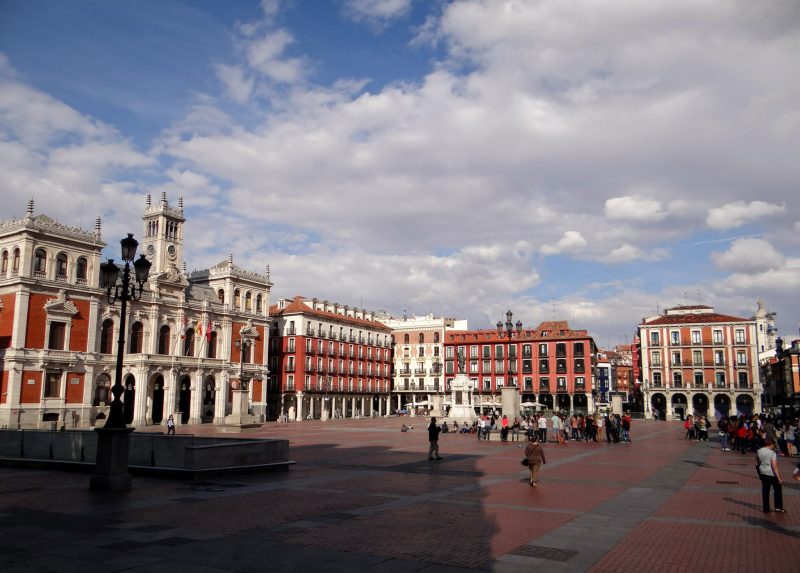 Valladolid, 195 km from Madrid. The city is almost 1,000 years old. In the XIII-XVII centuries it was the seat of the court of the Castilian and Spanish monarchs. The main attractions of Valladolid are the XVI century Herresco Cathedral and churches, the Royal Renaissance Palace, the Casa Museo de Colón, the Campo Grande park, the Museo Nacional de Escultura and sculptures of famous people in the squares, the Museo Casa de Cervantes.
Annual Festivals And Celebrations In And Around Madrid
On January 5, the Cavalcade of the Three Kings will march through the city, addressing people with a message of peace and solidarity.
The timing of the Gastrofestival is January-February.
February is the time of Carnival, which always ends with a symbolic "sardine funeral."
Holy Week lasts from Palm Sunday to Easter Sunday (March-April).
The bullfighting season begins in March and ends in mid-October.
May 2 is Madrid Day.
From May 15, for two weeks, locals honor St. Isidore, the city's patron saint. The celebration begins with a parade of "giants" and "bigheads."
On June 13, the city's "San Antonio de la Florida" street festival is celebrated.
The LGBTI State Pride Parade takes place in early July.
St. Paloma's Day (Fiesta de la Virgen de la Paloma) is celebrated on August 15.
The time from September to October is marked by the Madrileño fall theater festival.
October 12 is the National Day of Spain (Fiesta nacional de España).
On November 9, citizens honor Saint Almudena, the patron saint of Madrid.
November is the month of the JAZZMADRID international jazz festival.
November is the Autumn Festival, during which the best theatrical and dance productions and performances can be seen.
On December 25, Madrid residents celebrate Christmas in a family way.
December 31 is New Year's Eve.
Is It Safe In Madrid
Madrid is a reasonably safe city. But keep in mind that petty theft is common in the capital. If a tourist gets lost, his wallet or other valuables may be stolen. So do not carry a lot of money, make photocopies of documents, constantly monitor your pockets and bags, and in case of theft immediately contact the police.
Do They Speak English Well
In touristy places, they speak well.
What To Bring From Madrid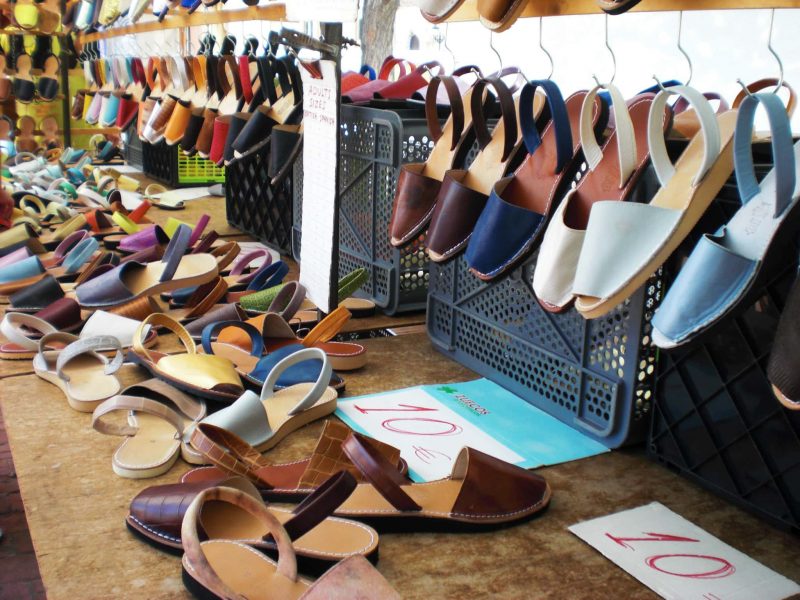 Spanish handmade pottery;
statue of a caganera, a "pooping man";
a bull statue;
fan and lace;
a six-string Spanish guitar;
cocktail hat for women;
a man's hat;
handmade thimbles;
shawl;
espadrilles (espardenya), shoes with rope soles made of jute;
pearls and pearl products;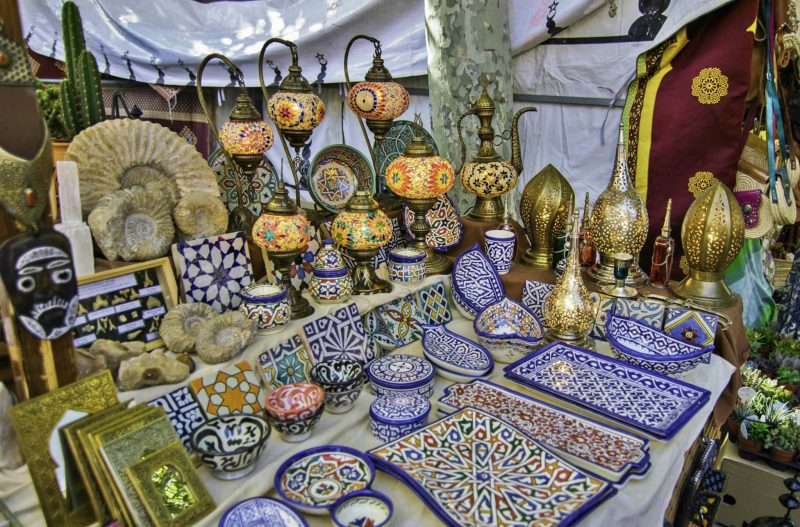 dress, vest, headdress, shoes, earrings, hair comb or flamenco castanets;
olive oil;
fuet and chorizo (xoriço), traditional Spanish sausages;
jamón, a raw pork ham;
paella set – broth, a special pan and a type of rice;
chocolate for chouros, tourron, Violetas violetas candy;
wine;
strawberry tree fruit liqueur;
sports paraphernalia of the Real Madrid soccer club;
a perfume by Alvarez Gomez.
What To See In Madrid In Winter
With the onset of cold weather, tourists move from the bustling streets and squares of Madrid to clubs, restaurants, museums and stores. In winter in the capital you can:
without queues to see the sights and visit museums;
discover the theaters of Madrid;
experience the authentic Spanish flamenco;
visit the Christmas markets and experience the fabulous holiday atmosphere;
go shopping. Shopping in winter is pleasant and profitable as the discount season begins;
join in the fun, because winter celebrates several holidays that are colorful and bright;
walk through Ernest Hemingway's favorite establishments (Museo Chicote bar, Cervecería Alemana beer garden and many others);
ride the Teleferico cable car;
dine in one of the oldest restaurants in the capital.
How Much Money To Take With You To Madrid
Let's calculate the approximate spending for a day in Madrid for two people.
The hotel costs about €80.
Breakfast at the café costs €8.
Lunch for two with drinks – a set lunch Menu del Dia €24.
Dinner for two with wine €50: €7 for the salad, €15 for the main course and €3 for the regular wine.
Subway fare for the day is about €12.
Snacks and goodies €6.
Total: €180 per day, not a lot of savings. If you cut back, it's realistic to cut down to €100 and live in a cheap hotel in the suburbs, and buy your groceries in the supermarket.